Johan Santana recorded only four outs, matching his shortest career start, which happened to be in Atlanta in April, and the Braves beat the Mets, 9-3, Saturday at Citi Field. The Mets (54-60) dropped a season-worst six games under .500. Santana was charged with eight runs, two shy of his career high, after Jeremy Hefner surrendered a 455-foot homer to dead-center to Freddie Freeman with two runners inherited from Santana on board.
Freeman's homer matched the sixth longest in Citi Field history: Giancarlo Stanton (465 feet, May 16, 2011), Mark Reynolds (462, Aug. 1, 2009), Carlos Beltran (459, June 18, 2011), Ike Davis (458, July 11, 2010), Davis (456, April 21, 2011) and Neil Walker (455, June 2, 2011).
Jon Niese (8-6, 3.82 ERA) opposes right-hander Ben Sheets (4-1, 1.41) on ESPN at 8:05 tonight as the Mets try to avoid being swept by the Braves for the second time in a month.
Sunday's news reports:
• Santana insisted his right ankle and pitching shoulder were healthy. He assigned his control woes to having not faced major league hitters since July 20. He is now 3-6 with a 7.98 ERA in nine starts since tossing the historic June 1 no-hitter. He has allowed six or more runs in four straight starts, matching Al Leiter (1999) and Pedro Astacio (2002) for the longest such streak in franchise history. It also matches Atlanta's Mike Minor for the longest such streak in the majors this season.
Tim Farrell/US Presswire
Johan Santana has a 7.98 ERA since celebrating his no-hitter on June 1.
The only pitchers in Mets history to allow at least eight runs and eight hits while retiring four batters or fewer in a game? Calvin Schiraldi (in relief on June 11, 1985 at Philadelphia) and Santana, according to ESPN Stats & Information.
"He had trouble with his changeup tonight early, and we got into some counts and got some pitches in the middle of the plate to hit," Chipper Jones said. "We bled a few in, but it was not typical Johan." (Read more from the Braves on Santana in the Post.)
Santana expressed hope he would finish the season continuing in the rotation, but acknowledged -- as did Terry Collins -- that the issue remains an open question. After all, the priority for the Mets is to ensure the southpaw has the best opportunity to succeed in 2013. Collins indicated another option to discuss is using a sixth starter next month to provide extra rest to Santana and Chris Young. That could be achieved through using Hefner, or by a prospect called up from Triple-A such as Jenrry Mejia or Collin McHugh.
Anthony McCarron advocates shutting Santana down. McCarron opines in the Daily News:
It's all about 2013 now around Citi Field -- or at least it should be -- and the Mets need Santana to be a big part of next year, if they hope to be anything more than they are now. In fact, the Mets ought to think hard about shutting down Santana if that would enhance the chance he'd be back to the guy who was brilliant in the first two months of the season. Santana himself acknowledged the possibility. "I'm hoping to finish the season pitching, but I don't know what, later on, what's going to happen," Santana said. "We'll see."
Santana appears virtually unmovable in a trade. Combined with a 2014 buyout, the southpaw is owed $31 million next season. Former Mets GM Steve Phillips estimated to Zach Schonbrun in the Times that an acquiring team might be willing to take on $10 million of Santana's salary, but that estimate seems high. Even if accurate, it is hard to fathom the Mets contributing $21 million to Santana playing elsewhere anyway and going with a rotation of R.A. Dickey, Jon Niese, Matt Harvey, Dillon Gee and a yet-to-be-identified fifth candidate. Santana has a no-trade clause anyway.
Read Saturday's game recaps in the Post, Star-Ledger, Newsday, Record and Daily News.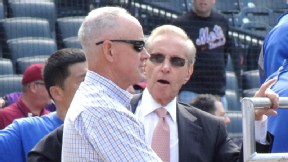 Adam Rubin
Fred Wilpon referred questions to Sandy Alderson before Satuday's game.
• Principal owner Fred Wilpon appeared on the field during batting practice and chatted with Keith Hernandez and Tim Teufel, but Wilpon declined a reporter's question about the state of the team, referring the issue to Sandy Alderson. Yet it's the Wilpon-set payroll, combined with existing contracts, that have suffocated the team. Santana and Jason Bay will combine to make $50 million next season, including 2014 buyouts. That is potentially crippling if the Mets' payroll will remain about $90 million next season. The only Mets' payroll commitment right now beyond 2013 is to Niese, who signed a five-year contract on the eve of the season. Writes columnist David Lennon in Newsday:
But there are questions that eventually will need to be answered about the Mets -- ones that don't involve whether Mike Baxter can be an everyday outfielder. Questions such as: What kind of money can the Wilpons spend this winter? What is their projected payroll for 2013? Is the franchise on the rebound financially? Any idea when the Mets will be legitimate contenders, not just first-half flameouts? Maybe these questions didn't need to be answered Saturday, but that's not going to stop them from being asked -- and not just by reporters hanging around the dugout. They've come up in conversations with players in the Mets' clubhouse. And these questions definitely are on the minds of the team's paying customers. They need to be convinced to show up for the remaining 24 games at Citi Field -- and buy tickets for 2013.
• The Mets cleared a roster spot for Santana's return from the DL by designating left-hander Garrett Olson for assignment. Olson was charged with four runs while recording only one out in his lone relief appearance, Wednesday against the Marlins. Olson's departure leaves Josh Edgin as the lone lefty in the bullpen, which is now minus Tim Byrdak (torn anterior capsule in left shoulder). Read more in the Star-Ledger.
• Zack Wheeler allowed two first-inning hits, including an RBI double to Eduardo Nunez, in his second Triple-A start. But Wheeler followed with five no-hit innings and ended up with a no-decision in Buffalo's 5-1 loss to Scranton/Wilkes-Barre. Second baseman Wilmer Flores, who is being shuttled among different infield positions, had a game-ending throwing error in Binghamton's 5-4 loss at Harrisburg. Jacob deGrom limited Fort Myers to one hit in seven scoreless innings in his Florida State League debut, after a promotion from Savannah. Read Saturday's full minor league recap here.
• Chris Young phoned a Floral Park, L.I., Mets fan who has a blood disorder, Adam Ronis writes in Newsday.
TRIVIA: Against which team has Santana suffered his most career losses?
Saturday's answer: Harvey fanned Arizona's Gerardo Parra for the 2010 first-round pick's first major league strikeout.