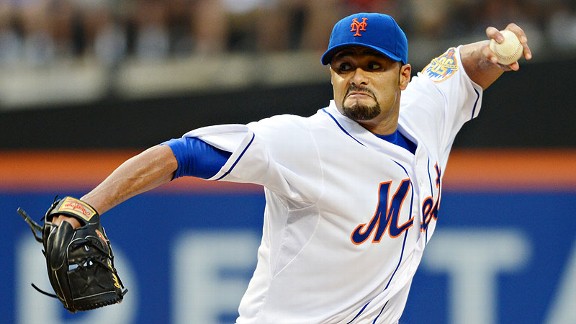 Henny Ray Abrams/Associated Press
Johan Santana was charged with eight runs in 1 1/3 innings on Saturday night against the Braves.Johan Santana and Terry Collins both maintained Saturday night that the southpaw is healthy, citing a fastball velocity that had not been this good since early in the season. Instead, they assigned Santana being charged with eight runs in what matched the shortest outing of his career to rustiness.
Santana had tossed three innings in a rehab start with Brooklyn on Sunday and had not appeared in a major league game since July 20.
YO NO!
Johan Santana has been a different pitcher since his 134-pitch no-hitter on June 1.
"I'm fine. It's just one of those nights where I didn't execute pitches the way they're supposed to be executed," Santana said. "But overall I felt fine. I didn't feel anything in my ankle or my shoulder. I felt good. It's just over three weeks not facing any hitters at this level and then trying to command all of your pitches, it wasn't my best. I think as I continue I'll make some progress and improve my command. Because I think I left some pitches up in the strike zone against a good team. And when you make mistakes like that, that's what's going to happen. And I think that was the case tonight."
Collins speculated Santana should improve once some of the rust is knocked off. The southpaw should get his next start with an extra day of rest on Friday in Washington, since the Mets have a team off-day after this weekend.
"I'd say it was rust," Collins said. "That's probably the best fastball I've seen him have since early in the season. Just balls in the middle of the plate. And, as I told him when I took him out: No disrespect to the Braves. They've got a very, very good club. But when they hit it, they hit it where nobody was standing. He didn't have a ball hit at anybody. ... I watched his long toss before the game -- much more carry on the ball than he's had lately. There were some bright things that happened. Just once he got in there he didn't make any pitches."
The 49 Greatest Mets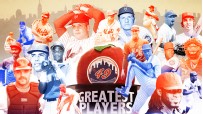 Fifty years after the Mets' first home game (they lost), we give you ...
The 49 Greatest Mets

Rank 'EmAsked whether Santana might be shut down at some point in September to try to ensure he is OK for 2013, Collins said that is an open question. The manager also said team officials will consider whether to use a sixth starter in September -- whether that's Jeremy Hefner or a Triple-A prospect -- in order to get Santana and Chris Young extra rest between starts. Santana is owed $31 million next season, including a 2014 buyout.
"He'll have some input in that," Collins said. "Obviously his health is the most important thing. Getting through the season, I think, is pretty important. Do we go to a sixth guy so he and Chris have some extra days? That's all going to be talked about."
Said Santana: "It's tough, but at least I'm back. And I'm just going to make my adjustments and work the next couple of days and hopefully be ready for my next time out there. I'm just going through a tough stretch. I'm just struggling. But I've got to bounce back. I haven't pitched for, I don't know, the last three weeks."
Asked point-blank if he wanted to complete the year, or whether it would be beneficial to conserve himself for 2013, Santana said: "We'll see. As of right now, we're just going one game at a time and see how it feels. The good thing is that my shoulder is fine from surgery. That's something that we'll talk about. I'm hoping to finish the season pitching. But I don't know later on what's going to happen. Right now I just have to prepare for my next game."