Josh Edgin inherited a pair of runners from Manny Acosta and served up a game-ending three-run homer to Jay Bruce as the Mets lost the opener of a six-game trip, 3-0 to Cincinnati on Tuesday night at Great American Ball Park. The teams combined to leave 24 runners on base entering the bottom of the ninth. The Mets again dropped to a season-low six games under .500. They have been shut out in three of their past six games.
R.A. Dickey bids for his 16th win tonight. He opposes right-hander Mike Leake (4-7, 4.51 ERA).
Wednesday's news reports:
• Sandy Alderson told Brian Costa in the Journal he had not yet conversed with ownership regarding precisely where the Mets' 2013 payroll will be set. It's hard to envision the Mets' spending freely this offseason. Home attendance, in terms of raw numbers, is down nearly 1,300 per game. And prices seemingly have been discounted. Yet the Mets only have a salary commitment to Jon Niese beyond the 2013 season. So, technically, as long as the Mets offer a free agent a low base salary in Year 1, they should be able to enter the market this offseason, even if the line is held on payroll. The more interesting question may be whether, even if Alderson had that inclination, he would ever be the winning bidder for a big-time free agent. After all, Alderson appears conservative in his willingness to commit significant years, so there may always be another bidder with a more generous offer.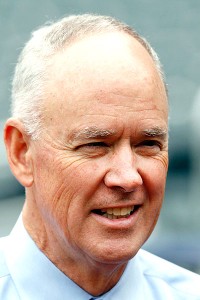 William Perlman/US Presswire
Sandy Alderson said he had not received a 2013 payroll from owner Fred Wilpon.
Officially, Alderson told Costa regarding next year's payroll: "I haven't had any conversations with ownership about it. I'm still focused on 2012, as is the rest of the front office. Over the next several weeks, that focus will shift, but it really hasn't yet."
Regarding David Wright, who is under the team's control for 2013 through an option, Alderson told Costa he is more confident of retaining him than he was about Jose Reyes remaining. Still, the GM said in lawyer-like fashion: "I think he would like to stay in New York, not to the exclusion of all other considerations. And I think there's a willingness on our part to accommodate that."
Regarding Dickey, for whom the Mets also have a 2013 option, Alderson said: "That depends on what R.A. wants to do. I've told him personally I think he's part of our long-term solution and we'd like to have him here beyond next year."
Alderson complimented Terry Collins' performance, but the manager's option already has been picked up for 2013, and the GM said he had not yet put thought into an extension beyond that. "Terry's done a great job again this year, and I'm very happy with the job he's done and the working relationship he's had," Alderson said. "That's something we'll consider a little bit into the future."
Collins told Mark Hale in the Post about getting security beyond 2013: "If I deserve an extension, I think I'll get one. If not, I won't. That stuff, it hasn't even crossed my mind, to be honest."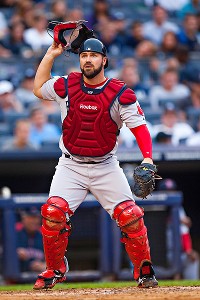 Rob Tringali/Getty Images
Catcher Kelly Shoppach was acquired from the Red Sox on Tuesday.
• The Mets acquired righty-hitting catcher Kelly Shoppach from the Red Sox for a player to be named after putting in a waiver claim. Shoppach is due to be activated for Wednesday's game against Cincinnati, with Rob Johnson seemingly ticketed for Triple-A Buffalo, at least until rosters expand Sept. 1. Shoppach, who is earning $1.135 million this season, is due to be a free agent after the season, so the addition gives the Mets a temporary, up-close look at him to determine his worthiness to sign as Josh Thole's complement for 2013. Collins expects a platoon with the lefty-hitting Thole.
"He's going to catch certainly against the left-handers. That's one of the reasons why we got him," Collins said. "I know one of the reasons we want to take a look at him the last six weeks here is to see how he'll fit."
Read more in the Star-Ledger, Newsday, Post, Daily News and Times.
• At Citi Field, Ecuador faces Chile in a soccer match tonight.
As for this week's Post report that a Major League Soccer expansion team is slated to play in a stadium to be constructed at Flushing Meadows Corona Park adjacent to Citi Field, Fred Wilpon and family are not believed to be part of any ownership group -- at least if MLS already has identified owners for the prospective addition to the league.
• Wright went 0-for-3 with a walk Tuesday and is now hitting .248 with five homers in 30 games since the All-Star break. Collins reiterated after Tuesday's loss that the offense is entirely too dependent on Wright. Wright told Andy McCullough in the Star-Ledger: "You're bound to go through a period like I've been going through, where you just feel a little bit uncomfortable, a little bit out of sync. I've been just searching to get back to where I feel comfortable. I think some of it's fatigue. I think some of it's just what happens."
• Brooklyn Cyclones pitchers Luis Mateo, John Mincone, Hansel Robles and Gabriel Ynoa combined to toss 3 2/3 scoreless innings, allowing two hits while striking out six, as the NL beat the AL, 8-1, in Tuesday's New York-Penn League All-Star Game. Mincone, who struck out both batters he faced, was credited with the win.
• Jeurys Familia tossed seven scoreless innings and combined with Robert Carson on a shutout and Matt den Dekker produced a grand slam as Buffalo beat Pawtucket, 6-0. It was den Dekker's second grand slam with the Bisons. He also had one Aug. 6. "I don't think I've had a grand slam in pro ball before that, so it's kind of crazy it happened in a matter of 10 days," den Dekker said. Read Tuesday's full minor league recap here.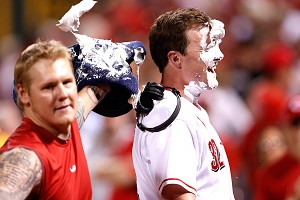 Joe Robbins/Getty Images
Jay Bruce gets a pie to the face from starting pitcher Mat Latos after delivering a walk-off homer.
• Young became the first Mets pitcher with a 12-baserunner, no-run start since Bobby Jones against the Braves in 1996, according to ESPN Stats & Information. He ultimately was credited with 5 2/3 scoreless innings after Ramon Ramirez entered and retired Drew Stubbs on a groundout to strand the bases loaded. Read game recaps in the Times, Newsday, Record, Daily News and Post.
• Collins reiterated Tuesday he likely will implement a six-man rotation down the stretch and utilize Jeremy Hefner in a starting role. The rationale: Johan Santana and Young can use extra rest between starts returning from shoulder surgery. Matt Harvey is approaching the soft innings cap Alderson had identified. And Niese performs better with an extra day anyway. Harvey currently has logged 132 1/3 innings between Buffalo and the majors, with the GM saying 170 innings is a logical limit. Niese has a 5.49 ERA on standard rest, a 2.53 ERA with one extra day, and a 1.80 ERA with two-plus days of extra rest between starts.
• Left-hander Garrett Olson cleared waivers and was outrighted to Buffalo. Olson lost his roster spot when Santana was activated from the disabled list Saturday.
• Dillon Gee believes he will be cleared to begin throwing during a scheduled Aug. 24 exam in St. Louis with the medical team that performed the surgery to repair a damaged artery in his pitching shoulder. Gee does not expect to return this season.
• Mike Pelfrey, who is rehabbing from Tommy John surgery performed on May 1, is scheduled to begin tossing a baseball Tuesday. Pelfrey is expected to be cut loose in December. Otherwise, the Mets would be responsible for paying him at least $4.55 million -- 80 percent of this year's salary.
• The Mets are partnering with the Red Cross to host a blood drive in the Caesars Club at Citi Field on Saturday from 9 a.m. to 5 p.m. Donors will receive two free tickets to the Sept. 17 game between the Mets and Phillies. Appointments can be made in advance by calling 1-800-RED CROSS (1-800-733-2767) or by visiting redcrossblood.org. Use Reference Sponsor Code "16064nyp."
TRIVIA: With which team did Shoppach make his major league debut?
Tuesday's answer: The Tigers selected Cameron Maybin and the Pirates selected Andrew McCutchen with the two first-round picks between the Mets' Pelfrey (No. 9 overall) and the Reds' Bruce (No. 12) in 2005.