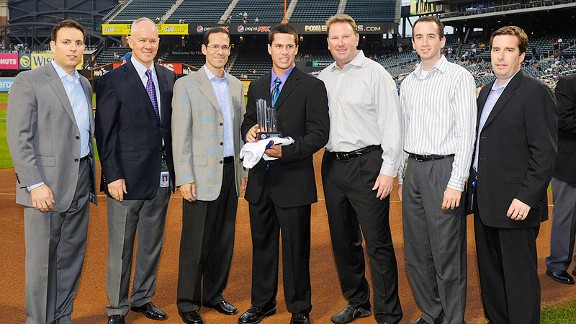 Courtesy of New York Mets
Mets executives presented catching prospect Cam Maron with a Sterling Award during a pregame ceremony at Citi Field last Sept. 14.
Cam Maron grew up in Hicksville on Long Island, rooting for the Mets and naturally having a particular affinity for Mike Piazza.
"Mets -- the whole way," Maron said. "Piazza was my guy. I used to love watching him. I liked watching Jose [Reyes], too, when I was younger. When he was coming up, he was always exciting. David [Wright] came up around the same time as well. I remember '99 and 2000 a lot. It was something they hadn't done in a while, and it was exciting to watch."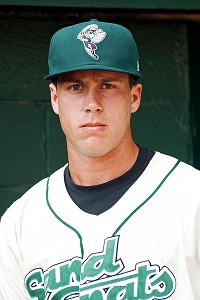 Courtesy of Savannah Sand Gnats
Cam Maron.
Now, the 21-year-old Maron is on a path toward becoming a major league catcher in Flushing, too.
Maron, a 34th-round pick in 2009 out of Hicksville High School, is hitting .305 with four homers, 38 RBIs and a .393 on-base percentage in 80 games with low-A Savannah. His batting average cracks the top 10 in the South Atlantic League.
Given the lack of catching prospects in the organization, the lefty-hitting Maron has a solid opportunity to rise through the minor league ranks. The other top catching prospects are 2012 supplemental first-round pick Kevin Plawecki out of Purdue, 2010 third-round pick Blake Forsythe from Tennessee, and 17-year-old switch-hitter Jose Garcia out of Venezuela.
Maron was named the Mets' Sterling Award recipient as the top performer with Kingsport last season, which earned him a visit to Citi Field for a pregame ceremony.
He has been a lifelong catcher.
"I caught from a young age. Since I was eight I've been catching," Maron said. "It all started, I guess, when I was bored doing the outfield or whatever we were doing back in Little League. I guess I wanted to be involved in a lot more action. My dad decided to throw me back there one day, and the rest is history. I've loved it ever since. You're involved in every play. You're touching the ball every time it's in play.
"I take a lot of pride in my mental ability behind the plate -- knowing hitters, knowing situations, pitch calling and things like that," he continued. "Having a good memory of those things really helps. It's something that not a lot of people can see physically. Only people who are attentive to the game or on the inside are the ones that can see it, which is sometimes tough. I really take a lot of pride in that. It really helps out the pitchers, and they appreciate that."
Organization leaders
Average: T.J. Rivera, St. Lucie, .322; Cam Maron, Savannah, .305; Eric Campbell, Binghamton, .303; Josh Satin, Buffalo, .298; Alonzo Harris Jr., St. Lucie, .293; Wilmer Flores, Binghamton, .290; Fred Lewis, Buffalo, .289; Josh Rodriguez, Buffalo, .282; Juan Lagares, Binghamton, .281; Matt den Dekker, Buffalo, .277.
Homers: Aderlin Rodriguez, St. Lucie, 22; Cory Vaughn, St. Lucie, 19; Matt den Dekker, Buffalo, 17; Travis Taijeron, St. Lucie, 16; Valentino Pascucci, Buffalo, 15.
RBI: Aderlin Rodriguez, St. Lucie, 76; Matt den Dekker, Buffalo, 68; Wilmer Flores, Binghamton, 66; Dustin Lawley, Savannah, 63; T.J. Rivera, St. Lucie, 61.
Steals: Alonzo Harris Jr., St. Lucie, 33; Fred Lewis, Buffalo, 21; Juan Lagares, Binghamton, 20; Matt den Dekker, Buffalo, 19; Richard Lucas, St. Lucie, 18.
ERA: Hansel Robles, Brooklyn, 1.48; Tyler Pill, St. Lucie, 2.31; Jacob deGrom, St. Lucie, 2.33; Rafael Montero, St. Lucie, 2.36; Gabriel Ynoa, Brooklyn, 2.45; Michael Fulmer, Savannah, 2.54; Luis Cessa, Brooklyn, 2.70; Luis Mateo, Brooklyn, 2.82; Rainy Lara, Brooklyn, 3.02; Collin McHugh, Buffalo, 3.03.
Wins: Rafael Montero, St. Lucie, 11; Zack Wheeler, Buffalo, 10; Gonzalez Germen, Binghamton, 10; Cory Mazzoni, Binghamton, 10; Tyler Pill, St. Lucie, 9.
Saves: Fernando Cabrera, Buffalo, 19; T.J. Chism, Savannah, 17; Adam Kolarek, St. Lucie, 16; Adrian Rosario, St. Lucie, 14; Robert Carson, Buffalo, 10.
Strikeouts: Zack Wheeler, Buffalo, 128; Collin McHugh, Buffalo, 128; Matt Harvey, Buffalo, 112; Rafael Montero, St. Lucie, 110; Jeurys Familia, Buffalo, 108.
Short hops
• Mets farmhands earned pitcher of the week honors in three leagues:
Left-hander Mark Cohoon took the Eastern League honor after taking a no-hit bid into the seventh inning and striking out a season-high 10 in a complete-game, 5-0 win for Binghamton against Harrisburg on Friday. It was Cohoon's first shutout since producing three straight with Savannah in June 2010, which led to a promotion directly to the B-Mets, bypassing St. Lucie.
Rafael Montero captured the Florida State League honor for tossing 7 2/3 no-hit innings against Palm Beach last Tuesday. He departed with the bid intact, having reached his pitch limit. It turned out to be Montero's final 2012 outing. The organization is shutting him down for the season due to an innings limit. The 21-year-old right-hander went a combined 11-5 with a 2.36 ERA between Savannah and St. Lucie this season and has struck out 110 and walked 19 in 122 innings. He only logged 71 regular-season innings in 2011.
Brooklyn right-hander Hansel Robles earned the New York-Penn League honor after carrying a perfect-game bid into the eighth inning in what became a 1-0 win against Vermont on Friday.
• Right-handed reliever Scott Patterson, who was granted free agency by the Mariners at his request and recently signed with the Mets, may not be long for the organization. Patterson, 33, landed on Buffalo's DL after two relief appearances with a shoulder injury. A team source said the Mets are attempting to void the contract, maintaining the issue predated his signing.
• Buffalo right-hander Collin McHugh has impeccable timing. For the second straight season, a Mets affiliate will play a Red Sox affiliate at Fenway Park. And for the second straight season, McHugh lines up for the start. After a rainout altered the schedule and deprived Jeurys Familia of the opportunity, McHugh now lines up to face Pawtucket at the historic stadium Saturday. On his blog, "A Day Older, A Day Wiser," McHugh wrote last year about his experience:
We could talk about all the buildup to the game. The eight-hour bus ride from Bingo to Portland. The two-hour bus ride from Portland to Boston, wherein our bus broke down a mile and a half from the park. The makeshift locker room that we shared with the opposing team. Walking around the park for a couple of hours. But all of that pales in comparison to actually toeing the rubber at Historic Fenway Park. I don't consider myself a baseball historian by any means, but a student of the game? Absolutely. I know about Fenway. The oldest major league stadium in the country. Pesky's pole. The Lone Red Seat. The Green Monster. I know about Fisk's homerun that he waved fair in the '75 series. Ted Williams going 6-for-8 on the last day of the season to ensure his .400 batting average. And, last but not least, "The Babe" pitching and hitting in his (pre-Yankees) uniform.
Roughly 25,000 strong, the stadium was filling quickly. As I began warming up on the same plot of ground as so many that had gone before me, I felt confident. "If they could succeed here, why not me?" It was, in fact, just like any other start this season. It was the third time I had faced the [Portland] Sea Dogs, each time pitching better than before. I was coming off one of my best starts of the year, and it was my turn. Taking a deep breath and relaxing my shoulders, I threw my first warm-up pitch. Right down the middle. I was really there. I was really pitching at Fenway Park. The noise was no longer a factor. The mystique of past heroes died away. It was me and the catcher. Time to go to work.
• Brooklyn's representatives had a solid showing in Tuesday's New York-Penn League All-Star Game. Luis Mateo started for the National League in an 8-1 win and contributed a scoreless inning with two strikeouts. John Mincone was credited with the win after striking out both batters he faced. Robles and Gabriel Ynoa each allowed one hit in scoreless innings.
• Second baseman Reese Havens, who was selected four slots after Ike Davis when the Mets had two first-round picks in 2008, has been sidelined due to back stiffness since serving as DH last Thursday with Binghamton. Havens has been tormented by back issues throughout his pro career, but actually has logged 84 games so far this season, 13 shy of matching his career high (2009 with St. Lucie).
In Havens' absence, Wilmer Flores appeared in four straight games at second base and had a trio of three-hit games.
• B-Mets center fielder Juan Lagares returned Tuesday. He had missed six days after tweaking an ankle.
• Left-handed reliever Adam Kolarek was demoted to St. Lucie from Binghamton. Kolarek had a 5.68 ERA in six appearances with the B-Mets, but a team official portrayed the motivation for the relocation as a chance for Kolarek to participate in the Florida State League playoffs and therefore have a development opportunity. Kolarek had produced 15 saves with St. Lucie before joining the B-Mets. Adrian Rosario, who had 11 saves with St. Lucie, also has returned to the Florida State League club after posting a 5.83 ERA in 26 Double-A relief appearances.
• 2012 first-round pick Gavin Cecchini, who fractured the tip of the middle finger on his throwing hand on Aug. 1, returned to action with Kingsport 11 days later as the DH. Cecchini has gone 5-for-13 at the plate in three games in that role since returning. He is working on his throwing pregame and should reappear at shortstop before the K-Mets' season ends Aug. 28.
• Jacob deGrom allowed one hit in seven scoreless innings in his St. Lucie debut Saturday. A ninth-round pick in 2010 out of Stetson, deGrom missed last season rehabbing from Tommy John surgery. The 24-year-old right-hander primarily played shortstop, with some third base, during his first two years at Stetson. He began pitching with regularity his junior season in college, after limited exposure in high school. Scout Steve Nichols liked him in that role and the Mets drafted deGrom as a pitcher.
• Since a promotion to Buffalo, 39-year-old sidearm lefty C.J. Nitkowski has not allowed an earned run in 4 1/3 innings. He primarily has being used as a lefty-lefty matchup reliever with the Bisons. None of the five runners inherited in his past four appearances have scored. Lefty batters are 3-for-10 with one walk and two strikeouts against him at the Triple-A level.
• Garrett Olson cleared waivers and was outrighted to Buffalo.
• Lucas Duda's last six starts with Buffalo, albeit interrupted three days because of a root canal, have come in left field. He is hitting .353 (12-for-34) with two homers in his past nine games.
• Right-hander Tyler Pill, a fourth-round pick in 2011 from Cal State Fullerton, was pulled after two innings Thursday from a St. Lucie start with soreness in his forearm and has landed on the DL. A team official said the injury is not believed to be serious.
Adam Rubin's farm report appears Wednesdays during the regular season