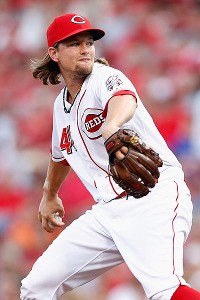 Joe Robbins/Getty Images
Mike Leake pitched a complete game against the Mets on Wednesday.
A bracelet-deprived R.A. Dickey surrendered consecutive fourth-inning homers to Scott Rolen and Todd Frazier (a 474-foot shot), then a long ball to Jay Bruce in the sixth and the Reds beat the Mets, 6-1, Wednesday night at Great American Ball Park. The three homers matched the most surrendered by Dickey as a Met and deprived him of win No. 16.
Mike Leake became the third pitcher to toss a complete game against the Mets this season, joining Toronto's Brandon Morrow and Atlanta's Paul Maholm.
The Mets dropped a season-worst seven games under .500.
Now, Matt Harvey (1-3, 3.63 ERA) takes the mound tonight trying to arrest a personal three-game losing streak and help the Mets avoid a sweep. He opposes right-hander Homer Bailey (10-7, 4.08).
The Mets have not been swept in Cincinnati since the season-opening series in 2005, when stopgap closer Braden Looper blew Pedro Martinez's debut with the organization on Opening Day by serving up consecutive ninth-inning homers to Adam Dunn and Joe Randa.
Thursday's news reports:
• Plate umpire James Hoye, supported by crew chief Jim Joyce, instructed Dickey to remove a pair a bracelets from the wrist of his glove hand during the second inning. Dickey said the bracelets had been made by his daughters before his offseason climb of Mount Kilimanjaro, and that he had worn the jewelry since January. Trainer Ray Ramirez had to be cut the bracelets because they were homemade and did not have fasteners. Dickey admitted being angry in the moment, but downplayed the significance on his performance -- even though Terry Collins said pitchers loathe changes to their patterns and suggested it may have affected the knuckleballer.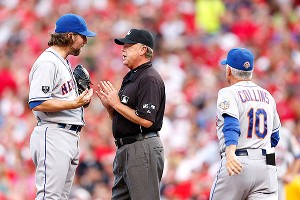 Joe Robbins/Getty Images
Crew chief Jim Joyce offers further explanation to R.A. Dickey about his bracelet removal before the start of the bottom of the third inning.
Dickey said umps told him during a delay when he took the mound the following inning -- which he did not appreciate, either -- that the directive came from Major League Baseball's uniform police, not the Reds or even the crew itself. Collins and Dickey found the timing curious, since it is already August and he had worn the bracelets all season without issue. Dickey said there are jewelry and other assorted violations across baseball, and likened the enforcement to a holding penalty in football -- that it can be enforced on any play. (Case in point: Check Felix Hernandez's left wrist in this photo after completing the final out of his perfect game Wednesday in Seattle.)
This wasn't the first time a bracelet had become an issue in a Mets game. Nine years ago, Jae Weong Seo became unnerved when Braves manager Bobby Cox convinced umps to force him to remove a Buddhist bracelet. Seo immediately surrendered a homer to Andruw Jones in that May 25, 2003 game at Turner Field.
Joyce told Mark Hale in the Post after Wednesday's game: "You cannot wear anything on either hand, bracelet-type or anything like that." Told Dickey had worn it all season, Joyce added: "Tonight we saw it, this crew saw it, and we just asked him to take it off."
• Collins predicted he would go with a different lineup look Thursday, although there is a limit to how much maneuverability the manager has. Options include Kelly Shoppach's Mets debut, Justin Turner getting a start, Jason Bay in the lineup (he has two doubles in three career at-bats against Bailey) or a call-up such as Lucas Duda. Meanwhile, Josh Thole had a franchise-record three passed balls last night.
Read game recaps in the Star-Ledger, Newsday, Record, Times and Daily News.
• The Mets will utilize a six-man rotation beginning Sunday, when Jeremy Hefner starts in D.C. Exempt from the arrangement is Dickey, who will continue to pitch every fifth game. So after Hefner, Dickey should come back on standard rest Monday for the series opener against Colorado at Citi Field, followed by Chris Young on Tuesday and Harvey on Wednesday.
The system should allow Harvey to reach the end of the season without exceeding his front-office-imposed 170-inning limit. It also should give Johan Santana and Young needed extra rest in their first seasons back from shoulder surgery. And Jon Niese has performed dramatically better this season with extra rest between starts.
Analyst Bobby Ojeda on SNY found the timing of the six-man-rotation implementation curious. Ojeda suggested September, after rosters expand, might be more appropriate. Ojeda also linked the bracelet and six-man rotation issues. His point: Collins noted pitchers are creatures of habit when discussing the bracelet issue, but yet is implementing a pitching schedule that could disrupt their sacred between-starts routines.
Read more in the Star-Ledger and Post.
• Shoppach, assigned No. 6, joined his new teammates Wednesday. Rob Johnson was demoted to Buffalo to clear the roster spot. Shoppach actually has caught a knuckleballer before. He rose through the minors in the Red Sox organization with knuckleballer Charlie Zink, plus had limited exposure in spring-training camp in 2005 to Tim Wakefield. Collins said he intends to pair Thole with Dickey, but that could be revisited. Red Sox bullpen coach Gary Tuck gave Shoppach a refresher lesson on catching the knuckleball once they learned he was headed to the Mets. Read more in Newsday, the Star-Ledger and the Daily News.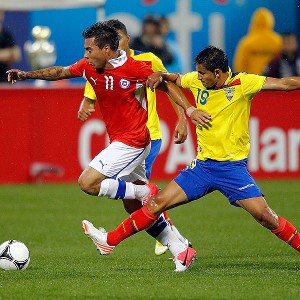 Paul Bereswill/Getty Images
Citi Field hosted an Ecuador-Chile soccer match on Wednesday night. Pictured, Luis Fernando Saritama (19) of Ecuador tries to stop Eduardo Vargas (11) of Chile.
• With the Mets away, Citi Field hosted soccer Wednesday night. Ecuador beat Chile, 3-0. The crowd on the rainy night was announced at 31,901.
• Former Red Sox first-round pick Craig Hansen, who last had appeared in a professional game in 2010 with the Pirates in the minors, surfaced with Brooklyn on Wednesday. Hansen, a St. John's product selected 26th overall in 2005, allowed one run on three hits and a walk in the eighth inning of the Cyclones' 6-2 loss at Tri-City. His contract keeps him under the Mets' control for 2013. Brian Harrison went 3-for-4 with three RBIs in Savannah's 8-2 win against Lexington. Erik Goeddel tossed seven scoreless innings for St. Lucie. Read Wednesday's full minor league recap here.
TRIVIA: Who started for the Reds at pitcher opposite Pedro on Opening Day in 2005 in Cincinnati?
Wednesday's answer: Shoppach made his major league debut with the Red Sox on May 28, 2005 -- four years after being drafted by the organization out of Baylor. He was traded to Cleveland on Jan. 27, 2006 in the deal that landed Coco Crisp in Boston and subsequently played for the Rays before re-signing with Boston as a free agent last offseason.