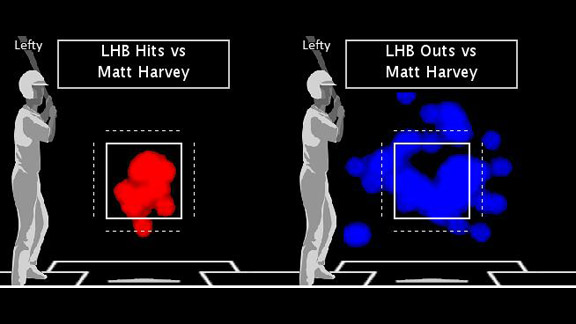 Matt Harvey has gotten lefties out by getting them to chase out of the strike zone.It will be up to Matt Harvey to save the Mets from being swept when he faces the Reds on Thursday night. Harvey went into Chase Field and beat the Diamondbacks in his major-league debut and Great American Ball Park will provide a similar test, albeit against a better opponent.
Matt Harvey
2012 Season (1-3, 3.63 ERA)
Harvey does have something going for him: The Reds rank 11th in the NL with a .249 batting average and .315 in on-base percentage against right-handed pitching.
But they rank among the top teams with a .415 slugging percentage against righties (.435 against righties at home), showing the sort of power that R.A. Dickey learned about on Wednesday night. Their 92 homers vs righties rank third in the NL.
Let's take a look at a few key things to know heading into this Harvey appearance.
Pitch to Watch For: High Fastball
Though Harvey had success against the Braves last week, one thing that didn't work as well for him in his last outing was the rising fastball, specifically the one thrown out of the strike zone.
Harvey had been getting hitters to go after that pitch, netting a 40 percent chase rate in his first three starts. That got him a few important extra strikes and thus a few extra outs.
Against the Braves, he threw 13 fastballs up and out of the strike zone, but the Braves only chased two.
Harvey will want to be careful with this pitch against a couple of hitters. The one with the most homers on upper-third-and-above fastballs from righties this season? An unlikely guy: shortstop Zack Cozart with five.
How do you get Jay Bruce out?
Bruce's numbers are much better at home against right-handed pitching than on the road. Of his 42 hits against righties at Great American Ball Park this season, 27 are for extra bases.
Jay Bruce vs Right-Handed Pitching
Last 4 Seasons
That holds up over the last four seasons, as noted in the chart on the right.
Home field provides a major boost to Bruce's batting average and slugging percentage, and that's held true in this series with a home run against both a lefty and a righty.
The keys to beating Bruce?
Be really careful on the first pitch. Bruce has six first-pitch homers this season and all but one have come at home against a right-handed pitcher.
Harvey can't afford to make the same mistake he did against Jason Heyward, who hit a two-run home run on a first-pitch over the middle of the plate in the first inning last Friday.
If a first pitch from a righty is in the strike zone, Bruce swings more than half the time. That puts him in the top 15 percent among major-league hitters.
Don't be afraid to throw the heat: Bruce has seen 188 pitches from a righty that registered at least 93 mph this season. He's hitting .217 when that pitch is an at-bat ender and has only one home run.
Work him inside, rather than away: Bruce is more apt to homer on a pitch on the outer-third of the plate or further away (eight home runs on 248 swings against righties) than on the inner third or closer (three home runs on 131 swings).
Warning: The Reds are comfortable versus inexperienced pitchers
The Reds have faced nine pitchers this season who had appeared in four career games or fewer at the time. Those pitchers had thrown a combined 18 2/3 innings and allowed 20 runs.
The three starting pitchers in that group gave up 10 runs in 14 innings. Two of them lost, including hyped prospect Trevor Bauer, who allowed four runs and five walks in three innings.