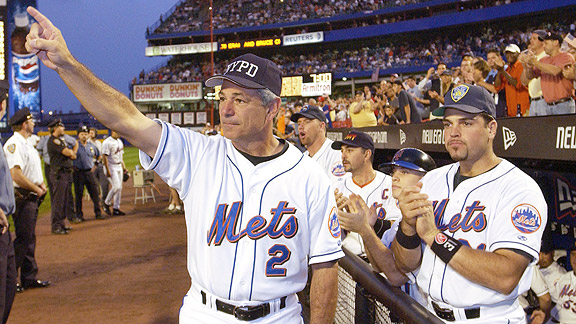 Ezra Shaw/Allsport/Getty Images
Mike Piazza and Bobby Valentine wear first responder hats during the Sept. 21, 2001 game at Shea.R.A. Dickey's bracelet issue seems like an opportune time to revisit whether MLB will permit the Mets to honor first responders by wearing the hats of various city agencies during the Sept. 11 game, which this year will be played at Citi Field against the Washington Nationals.
You may recall last year the Mets bowed to MLB pressure and did not wear the hats, even though their predecessors in Mets uniforms -- including Todd Zeile, John Franco and Mike Piazza -- defied similar edicts and wore it to salute those agencies.
After last year's fiasco, those involved resolved to have the issue addressed early this year.
So what has been resolved less than four weeks from the game?
Apparently nothing. Not yet, anyway.
ESPNNewYork.com polled various people involved and found that the issue seemed to have been forgotten.
The good news: No one seemed averse to the Mets wearing the first-responder hats this Sept. 11, as long as the proper MLB process for a waiver was followed. And now that it's on the radar roughly a month before the game, it seems likely the first-responder hats will be worn this year.
Players seemed particularly enthusiastic about honoring the first-responder agencies -- and avoiding a repeat of last year's situation that put them in a no-win situation.