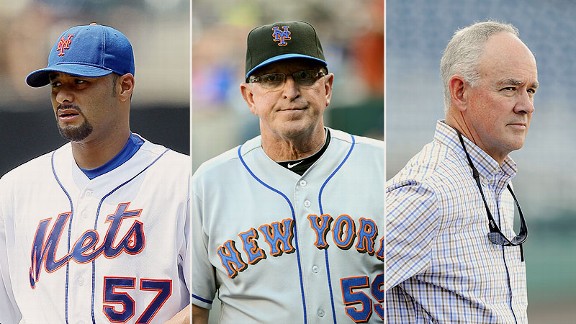 Getty Images
While a shutdown of Johan Santana may not be imminent, it likely will at least be discussed by a group including (l to r) Santana, pitching coach Dan Warthen and GM Sandy Alderson.
WASHINGTON -- Johan Santana surrendered a grand slam to Michael Morse and two-run homer to Bryce Harper while allowing six-plus runs for a franchise-record fifth straight start. The Mets went on to lose Friday's series opener, 6-4, to the Nationals.
Jon Niese now tries to prevent the Mets from dipping eight games under .500 for the first time since completing last season with a 77-85 record. Niese (9-6, 3.67 ERA) opposes right-hander Edwin Jackson (7-7, 3.74) in today's 7:05 p.m. game at Nationals Park.
Saturday's news reports:
• Pitching coach Dan Warthen briefly mentioned Santana's back during a postgame interview, but Santana insisted he was healthy despite an 8.27 ERA in 10 starts since his June 1 no-hitter. Mets brass likely will huddle to discuss Santana, with shutting down the southpaw among the topics to consider, although it would seem likely Santana gets another opportunity with an extra day of rest Thursday at Citi Field against Colorado. Santana, though, has not been dismissive of shutting down his season before his teammates -- receptiveness that suggests it probably will happen at some point before the Mets wrap up their season in Miami Oct. 3.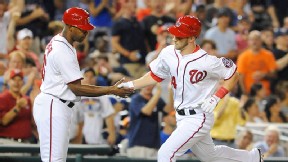 Brad Mills/US Presswire
Bryce Harper's two-run homer capped the damage against Johan Santana.
Santana noted he began throwing during the offseason six weeks earlier than normal because he was working back from shoulder surgery. Warthen also faulted throwing only three in-game innings during a rehab assignment with Brooklyn for a current lack of stamina.
"The point is there's a light at the end of the tunnel because you know he's healthy," Terry Collins maintained.
Read more on Santana/game recaps in the Post, Times, Newsday, Star-Ledger, Record and Daily News.
• Nats manager Davey Johnson successfully requested Santana cover a shiny portion of his glove -- a maneuver the Mets were sensitive about given R.A. Dickey was instructed to remove bracelets made by his daughters two days earlier in Cincinnati. Read more in Newsday.
• More instantly replay, at least unofficially, is coming to Citi Field this season. Major League Baseball will experiment with technology to determine fair and foul balls. The technology will be tested, not influence game decisions. A competing system will be tested at Yankee Stadium. Writes Jayson Stark at ESPN.com:
"Hawkeye," the camera-based technology used in tennis, will be tested at Citi Field, both during Mets games in September and on off days. A radar-based system, similar to the technology used to track shots in golf telecasts, will be tested at Yankee Stadium. That technology, officials said, has not previously been used to review calls in any sport. Baseball also plans to test both systems during the Arizona Fall League and present the results at the next owners meetings in November. There is no timetable for making a decision on when, or even whether, to begin using one of the two systems to review calls in major-league games, officials said. However, commissioner Bud Selig has said he hopes to expand replay to include fair/foul calls and possibly trap/catch calls as soon as next season.
Collins said pregame Friday that he now supports instant reply for fair/foul calls. "For years and years and years, the answer was no, I wasn't in favor of it," the manager said. "I thought this was a game played by human beings who make mistakes. But now the technology is so good, it can happen so fast, you might as well use it. Get the calls right, because with what's happening now, we're seeing tough calls that can change the course of a pennant race."
Read more in the Star-Ledger, Newsday and Daily News.
• Right-hander Collin McHugh gets the start as Triple-A Buffalo faces Red Sox-affiliated Pawtucket at Fenway Park today, in the seventh-annual "Futures at Fenway" doubleheader. Boston's Class A Lowell team faces Hudson Valley in the first game. McHugh tossed six scoreless innings at Fenway Park last year while pitching for Double-A Binghamton against Portland. "There's a little bit of awe that takes place when you're standing out there warming up," McHugh told Mike Harrington in the Buffalo News. "I'm warming up down the left-field line and the [Green Monster] wall is right over here to my left and I'm looking at it thinking, 'Whoa, how many balls have been hit and smoked off that wall or over it over the years?' But you've got to be able to calm yourself and focus one pitch at a time."
• A battle between Cablevision and WPIX could result in Mets fans who have the cable provider being unable to watch this weekend's games, writes Cynthia Littleton in Daily Variety.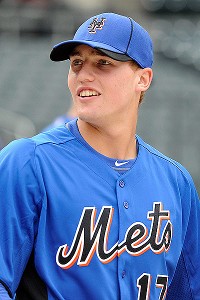 Courtesy of New York Mets
Brandon Nimmo produced six RBIs on Friday night with Brooklyn.
• 2011 first-round pick Brandon Nimmo had a grand slam as part of a six-RBI night as Brooklyn beat Tri-City, 12-4. Jenrry Mejia limited Lehigh Valley to one run in six innings and Lucas Duda homered in Buffalo's 4-2 win. Read Friday's full minor league recap here.
• The Mets expect Kirk Nieuwenhuis (right foot) to be available for a September call-up.
• A major league source said Scott Hairston has not been placed on waivers, which would be a prerequisite to trading him, if the Mets were so inclined. Hairston, meanwhile, told ESPNNewYork.com the team has not engaged him in any conversations about an extension.
• Brian Costa in the Journal offers a reminder that it's vital to get Frank Francisco back on track -- the closer is owed $6.5 million next season. Writes Costa:
Entering Friday, in his first season with the Mets, Francisco had a 6.25 ERA and was allowing 1.83 walks and hits per inning. His fielding-independent pitching mark, which removes the impact of defense from the equation, was 4.58. All three of those statistics were the highest among major-league relievers with at least 10 saves. To put it another way, for those not so mathematically inclined, Francisco has been pretty much indisputably the worst closer in baseball. Not coincidentally, the Mets have the worst bullpen in the game, with a 5.10 ERA entering Friday. If it holds through the end of the season, that figure would make this relief corps the worst in franchise history.
Fortunately for the Mets, only one reliever is signed through next season. Unfortunately for the Mets, that is Francisco. He is owed $6.5 million in 2013, up from $5.5 million this year. And it is unlikely the Mets will be able to afford to acquire a better closer and make Francisco a $6.5 million setup man. They have too many other roster needs, don't figure to be flush with cash and have two prospects, Jenrry Mejia and Jeurys Familia, who could develop into closer-types. What the Mets need over the next six weeks, then, is for Francisco to remind them why they signed him in the first place, if only for peace of mind going into 2013.
Read more on Francisco in the Times and Post.
• Jon Rauch, who has picked up a pair of saves this week bailing out Francisco, has allowed one earned run in 14 1/3 innings over his past 20 appearances. Read more on Rauch's recent success in the Record.
• A team official told Andy Martino in the Daily News that 39-year-old lefty reliever C.J. Nitkowski will receive a September call-up "if he keeps doing what he's doing" with Buffalo.
TRIVIA: Which players' numbers did the Montreal Expos retire before relocating to Washington?
Friday's answer: Beyond the current six members of the expanded rotation, Mike Pelfrey, Dillon Gee, Miguel Batista and Chris Schwinden have started games for the Mets this season.