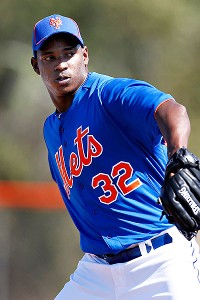 Jeff Roberson/Associated Press
Jenrry Mejia could serve as a starting pitcher for the Mets in September.
WASHINGTON -- Terry Collins said there is a possibility Jenrry Mejia will appear as a starting pitcher in the majors at some point in September, which is especially the case if Johan Santana's season eventually gets cut short.
Mejia recently has incorporated a sinker, which Wally Backman offered a favorable review of in a written report that Collins read. Mejia still projects as a reliever in the majors, but he has taken more to starting than bullpen work in Triple-A.
He limited Lehigh Valley to one run and five hits in six innings Friday with Buffalo. Mejia has allowed only four runs (two earned) in 18 1/3 innings over four starts since being switched back from a relief role. He had a 5.48 ERA in 16 Triple-A relief appearances.
Mets officials also must weigh whether Mejia should pitch in winter ball in the Dominican Republic, and in what role if he does. He missed most of last season recovering from Tommy John surgery, and has currently logged 74 2/3 innings in the minors this season across various levels.