WASHINGTON -- Jon Niese tossed 7 1/3 scoreless innings, Ike Davis delivered a two-run homer and Frank Francisco bounced back from a pair of shoddy relief appearances earlier in the week as the Mets topped the Nats, 2-0, Saturday night.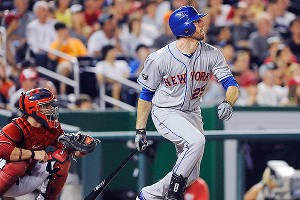 Brad Mills/US Presswire
Ike Davis' two-run homer accounted for the only scoring in the Mets' 2-0 win.Here are postgame reactions:
• Niese, who has been injured late in seasons in the past, said he actually feels as good as he has all season despite it being mid-August.
"I actually feel just about as good, or better, than I felt at the beginning of the year," Niese said. "Definitely better than I felt in May; I was really struggling with 'dead arm.'"
As for Terry Collins pulling him from a scoreless effort after 7 1/3 innings, the manager said: "We talked about it, but with those guys coming up for the fourth time that deep in the game, they can strike fast and strike quick. I wanted (Danny) Espinosa to hit left-handed. So I thought I'd make the move."
• Francisco said his fastball had been flat in two appearances earlier this week in which he failed to complete the ninth inning, so he concentrated on trying to get a downward plane. The closer suggested perhaps he was somewhat tentative in previous recent appearances because he was returning from an oblique injury.
"I noticed my fastball was flat," Francisco said. "It had good velocity, but everything was flat. I was missing my spot. Today, I didn't miss my spot. Every time I'd go in, if I missed, I'd miss inside. And when I'm going to go away and missed, I missed away. My split was there. My slider was working. Everything was working."
• Davis said about his decisive two-run, opposite-field homer against Edwin Jackson: "I wasn't trying to go anywhere. I was just trying to hit the ball. We didn't really do a great job of that tonight, probably because he was so nasty. He left a fastball up and away and I hit it on the barrel and it got out of there."