WASHINGTON -- Jon Niese shut down Washington's offense for 7 1/3 innings and combined with Jon Rauch and Frank Francisco on the shutout and Ike Davis delivered a two-run homer against Edwin Jackson as the Mets beat the Nats, 2-0, Saturday.
The Mets begin their six-man rotation this afternoon at Nationals Park, as Jeremy Hefner (2-4, 4.76 ERA) opposes left-hander Gio Gonzalez (15-6, 3.29) at 1:35 p.m in the rubber game.
Sunday's news reports:
• The Mets' payroll, which suffered an historical one-year drop last offseason, is expected to remain the same, at roughly $90 million, for 2013, a baseball source told ESPNNewYork.com. Read the news story here.
• Terry Collins said he will confer with Sandy Alderson in New York on Monday to discuss a plan for Johan Santana. The expectation is Santana will proceed with a scheduled Thursday start against the Rockies at Citi Field. But neither Collins nor pitching coach Dan Warthen wanted to guarantee that appearance because the manager had not yet learned whether Alderson prefers more strongly to shut Santana down for the season. Read more in the Post, Star-Ledger, Record and Newsday.
• Santana is making $31 million next season, including a buyout of 2014. He also has no-trade protection. And his current string of subpar outings -- a franchise-record five straight starts of six-plus earned runs allowed -- raises the question of what he can be post-shoulder surgery. Still, Santana is not completely unmovable in a trade, a baseball executive suggested to Andy Martino in the Daily News. "Very limited trade value ... not 'untradeable,' but would have to have another big contract involved going to the Mets," the executive wrote in a text message, according to Martino. "Plus Mets would probably have to kick in some more because not many [players are] making $31 million for one year. Trade would have to [be] mostly salary-driven on both sides."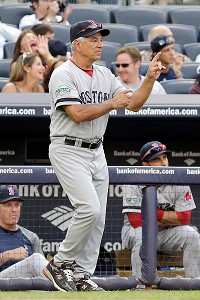 Tim Farrell/The Star-Ledger/US Presswire
Bobby Valentine was a victim of new Met Kelly Shoppach griping to ownership, the Daily News alleged.
• The Daily News identified Mets newcomer Kelly Shoppach as a primary instigator behind a text message to Red Sox ownership undermining embattled Red manager Bobby Valentine. Write Roger Rubin and Martino in the newspaper:
Boston Red Sox first baseman Adrian Gonzalez was not the author of the now-infamous text message to Boston ownership complaining about manager Bobby Valentine, although it was sent from his cell phone, major league sources told the Daily News. Those sources also said new Mets catcher Kelly Shoppach was deeply involved in writing the message that touched off the latest Sox drama, but Shoppach would not confirm that charge.
A small group of players that has been unhappy with Valentine this season -- a group that included Shoppach, according to a source familiar with the circumstances -- was complaining about the manager in late July and engaged Gonzalez in the conversation. A member of the group suggested that the only way to bring about action would be to voice their problems to ownership. Gonzalez was tired of hearing the constant grumbling and agreed with them that a message from him -- the team's highest-paid player -- would get management's attention. ...
Shoppach bristled at the notion he was involved. "I have no influence on what they're doing with upper management," he said Saturday. "I am a backup catcher doing my job. It is my responsibility to do my job. That's it: a guy on a one-year contract who is just happy to have a job around a bunch of talented guys like they have there."
• Read Saturday's game recaps in the Post, Times, Star-Ledger, Newsday, Record and Daily News.
• Cablevision customers were unable to watch Saturday's Mets-Nats game on WPIX because of a dispute between the network and cable provider. Sunday's game also is due to be televised by WPIX, again leaving customers in the dark, barring a settlement. Read more in Newsday. (Note: Newsday and Cablevision have common ownership.)
• The Mets will line up to face the AL Central in 2013, a source told ESPNNewYork.com.
• Collin McHugh had a scoreless performance for the second straight season at Fenway Park as Buffalo beat Pawtucket, 2-0, Saturday. Read Saturday's full minor league recap here.
• Andrew Keh in the Times notes that David Wright, who already has achieved most of the franchise's hitting records, is nipping at Ed Kranepool's heels for another -- career hits as a Met. Writes Keh:
Kranepool, who played 1,853 games for the Mets from 1962 to 1979, collected 1,418 hits during his career. Wright, 29, ended Saturday with 1,222 games and 1,385 hits. Kranepool's mark is 33 hits away. "When you talk about becoming a franchise's all-time leader in anything, it's a nice accomplishment," Wright said. He added that passing Kranepool would have its own significance. "He was one of those original Mets," Wright said, "and he played for this organization for so long, it'd be an honor."
• Collins said it's possible Jenrry Mejia could appear as a starter for the Mets next month.
TRIVIA: Which current Mets minor leaguer played for the Expos?
Saturday's answer: Montreal retired the numbers of Gary Carter, Andre Dawson, Rusty Staub and Tim Raines before relocating to Washington. The Nats put those numbers in circulation after one year in D.C. (They did not award Frank Howard's No. 33 from his Washington Sentators days until this season, when Jackson got it.)