Jeremy Hefner surrendered a pair of homers and was charged with five runs in five innings and the Mets lost the finale of their road trip, 5-2 at Washington on Sunday. The Hefners do have good news, though. His wife Sarah is due to give birth to the couple's second child Wednesday.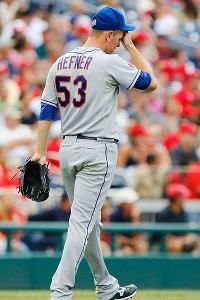 Jonathan Ernst/Getty Images
Jeremy Hefner surrendered five runs in five innings on Sunday as the Mets began instituting their six-man rotation.
Meanwhile, after Sunday's loss, the Mets returned home via train. They will face a pair of NL division doormats this week -- four games against Colorado, then three games against Houston, which fired manager Brad Mills on Saturday.
"Well, we're not exactly playing great right now," Terry Collins replied when asked about the decrease in difficulty of opponent.
R.A. Dickey (15-4, 2.89 ERA) looks to regain a share of the NL wins lead when he opposes Rockies right-hander Alex White (2-6, 5.74) in Monday's 7:10 p.m. series opener. The game will be televised by SNY, after two days of blacked-out games for Cablevision customers on WPIX.
The biggest event should come pregame, when Collins meets with Sandy Alderson to get on the same page regarding Johan Santana. The likelihood appears that Santana proceeds with Thursday's start against the Rockies, but neither Collins nor pitching coach Dan Warthen was prepared to guarantee that before conferring with the GM.
Monday's news report:
Bryce Harper had a run-scoring triple and solo homer and Danny Espinosa had a two-run shot as the Nats built a 5-0 lead against Hefner. Daniel Murphy was ejected in the loss after a called third strike. Read game recaps in the Times, Star-Ledger, Post, Newsday, Daily News, Record and Journal.
Kelly Shoppach denied involvement in sending a text to Red Sox ownership trying to undermine Bobby Valentine. Read more in the Post, Star-Ledger, Daily News and Newsday.
Triple-A manager Wally Backman told the Buffalo News' Mike Harrington the Mets are expected to get bounced from Buffalo after the season. As a result, the Mets' Triple-A affiliate could end up in Las Vegas in 2013 and 2014.
Pedro Beato tossed two scoreless innings to produce the save in his debut with the Red Sox organization, preserving a 4-1 win against Buffalo. Kevin Plawecki had a pair of solo homers and caught a shutout as Brooklyn beat Vermont, 2-0. Read Sunday's full minor league recap here.
Ruben Tejada was given Sunday off until pinch hitting. He had started 22 straight games at shortstop. Read more in the Daily News.
TRIVIA: Which two other major league teams has Rockies skipper Jim Tracy managed?
Sunday's answer: Buffalo's Valentino Pascucci played for the Montreal Expos in 2004, including the final game in franchise history, on Oct. 3 at Shea Stadium against the Mets.