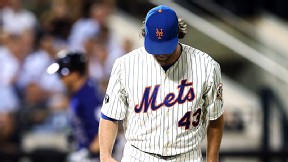 Elsa/Getty Images
R.A. Dickey gets another crack at win No. 16 on Saturday against Houston.
After receiving a no-decision in Monday's 3-1 loss to the Rockies that left him still at 15 wins, R.A. Dickey was asked if it now will be an uphill battle to reach 20 wins.
"I want to get to 16 wins," Dickey said. "And however I can do that is what I'm interested in. And that means, in the immediate, I can get myself ready to pitch against the Houston Astros on Saturday. That's my only concern. My only thought is the process of how to win No. 16 on Saturday. And it does not go beyond that.
"It's much more frustrating from the team standpoint," the knuckleballer said, referring to Monday's result. "We really want to try to turn the corner here. We're having difficulty doing that. But, along the way, we've got to try to continue to identify pieces -- pieces that are going to make us successful, whether it's a person or an effort or whatever it may be. So we can't ever stop doing that. So hopefully tomorrow we're come out and identify some more pieces."
Terry Collins pinch hit for Dickey with Justin Turner in the seventh inning and the score tied at 1.
"It's not difficult in the sense that I completely understood the strategy of trying to win a game," Dickey said about leaving the game at that point. "I mean, everybody on that bench is a better hitter than me."