The Mets do not expect to announce the MRI results on Johan Santana's back until Wednesday, a team spokesman said.
In the meantime, Mets manager Terry Collins wouldn't completely rule Santana out of his scheduled start on Thursday -- but he made it sound unlikely.
The 49 Greatest Mets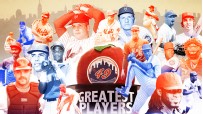 Fifty years after the Mets' first home game (they lost), we give you ...
The 49 Greatest Mets

Rank 'Em"We'll bring someone up to start that game," Collins said of his contingency plan.
After Wedenesday's game, the Mets added Collin McHugh to the taxi squad. He will make the start if Santana doesn't.
When or if Santana starts again this season, he will be on a limited pitch count.
"If it is fine and they think he can pitch, we are not going to wear him out," Collins said. "I will tell you, this guy is going to pitch 75-to-80 pitches max. If he is able to do that, then I think we can get a few more starts out of him. Because that is to me, erring on the side of caution. That may be four innings. That may be five innings.
Since Santana's no-hitter in late May, he has been on the disabled list with a sprained ankle and has not pitched well when on the mound. After tossing 134 pitches in making Mets history, Santana has gone 3-7 with an 8.27 ERA in 10 starts.
In spring training, Collins thought that if Santana could get to 28 starts on the season he would have a big year. He has started 21 games thus far.
"I think that is pretty good," Collins said. "He has to be very, very happy he has got that far, which he is. You guys have heard him. Even though he isn't pitching good right now, he is the first guy to stand up and talk about it. The one thing he is happy about, he is healthy."