This will be start No. 6 for Matt Harvey, who faces the Rockies at 7 tonight trying to get a win in what has been an ugly series so far.
Harvey's pitching, for the most part, has been very watchable. Let's take a look at key storylines for tonight.
Chasing the history books
Harvey has 34 strikeouts through his first five major-league appearances. Only two Mets had 40 or more strikeouts through their first six career games: Nolan Ryan (42) and Dwight Gooden (40).
Harvey, who had a rep upon his recall for being a little wild, hasn't shown too many signs of that, with 13 walks through his first five appearances. The Mets record for walks in their first six career games is 29 by Rick Ownbey (who was later in the swap for Keith Hernandez). Second-worst on that list: Mets broadcaster Ron Darling with 23.
Unusually good defense
The Mets defense has been solid in Harvey's five starts this season, with no hitter reaching base as the direct result of an error (there was an error by Ruben Tejada trying to finish a double play against the Giants).
The Mets have done well at turning both ground balls and fly balls into outs, getting at least one out on 24 of 27 grounders (89 percent) and 23 of 25 fly balls that stayed in the park (92 percent).
Those rates are both above their norms of 74 percent and 85 percent respectively.
Finishability
Harvey has looked invincible at times in two-strike situations. Three of the teams he's faced—the Diamondbacks, Giants, and Reds- went a combined 0-for-38 with four walks in two-strike counts. The Braves and Padres were 4-for-19 with five walks.
Harvey looked impressive in all three of those good starts, allowing only four runs in 19 innings. The Padres were the one team that beat him up.
In the three starts in which opponents went hitless, Harvey's most effective pitches were the upper-third and above fastball, which netted 12 outs, and the slider away from a right-handed hitter, which netted seven.
Matchup of the Game: How do you get Tyler Colvin out?
With most of the Rockies stars out with injuries, a few lesser-known players have picked up the slack, among them Colvin, who is 3-for-7 with a home run in this series, and is hitting .292 with 14 home runs this season.
Colvin's numbers against right-handed pitching are legit, both in and out of Coors Field. On the road against righties, he's hitting .287 with seven homers in 115 at-bats.
There aren't many spots where a right-hander can feel comfortable throwing Colvin a fastball or variations thereof (cutters, sinkers, splitters). It's a high-risk proposition as his numbers are good against that pitch across the board.
A Harvey heater, usually in the 93-mile-per-hour range, won't scare Colvin. He's seen 203 fastballs at that speed or faster and done enough damage (16 hits, three home runs, and a .609 slugging percentage against them from righties) to offset that he misses them at a rate of about once every four swings.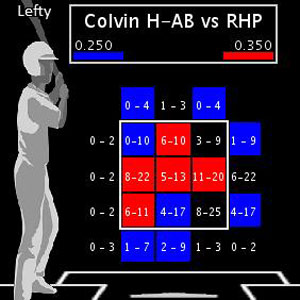 The changeup also isn't the best option, given that Colvin has four homers against them (only three NL hitters have more against righties).
With that in mind, Colvin may see one or two fastballs (likely up around the eyes), but a lot of sliders.
This season, in a small sample, he's been aggressive against the slider, swinging at 64 percent of them thrown by righties. That's the fourth-highest swing rate in the majors. The Mets haven't thrown him one in the series.
But Colvin is gettable with it, particularly when it comes down and in, below the knees, but near the plate.
As the heat map shows, if Colvin goes after a pitch that jams him really tight inside, he doesn't have success.