Matt Harvey limited the Rockies to one run on three hits and two walks while striking out nine in six innings, but the rookie departed his sixth career start with the score tied and his pitch count at 102. Ramon Ramirez entered for the seventh inning and served up a tiebreaking homer to the first batter he faced, Wilin Rosario. Ramirez eventually surrendered another run in the seventh. Frank Francisco then allowed two runs in the ninth and smashed a water cooler as the Mets ultimately lost to Colorado, 5-2, Wednesday at Citi Field.
The Mets dropped 10 games under .500 for the first time since finishing the 2009 season at 70-92.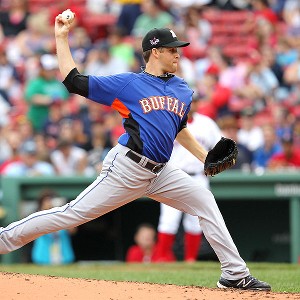 Mark L. Baer/US Presswire
Collin McHugh makes his major league debut in place of Johan Santana this afternoon against Colorado.
This afternoon, Collin McHugh makes his major league debut in a 1:10 p.m. matinee in place of Johan Santana, who landed on the disabled list and is being shut down for the season. McHugh opposes right-hander Tyler Chatwood (3-3, 5.46 ERA) as the Mets try to avoid being swept by Colorado in four-game series in New York for the second straight season.
McHugh's last start happened to come at Fenway Park, when he tossed seven scoreless innings against Triple-A Pawtucket as part of an annual minor league showcase at the historic ballpark. McHugh, an 18th-round pick in 2008 out of Berry College near Rome, Ga., will become the 11th starting pitcher used by the Mets this season.
"When I went there last year, I was a little bit in awe. I was warming up next to the [Green] Monster," McHugh said, referring to also pitching at Fenway Park last season, with Double-A Binghamton. "This year I got to go and you felt like you had been there before. Obviously, it's not a big league game. But it is a storied big league ballpark and was a lot of fun. Hopefully it translates well."
Because McHugh has logged 143 2/3 innings in the minors this season, up from 129 during last year's regular season, he is not expected to make regular starts down the stretch. In fact, Terry Collins suggested the Mets likely would return to a five-man rotation at some point in September, with prospects such as Jenrry Mejia making strategically placed starts.
Thursday's news reports:
• An MRI of Santana's lower back revealed inflammation, Sandy Alderson said. The team plans to shut down the southpaw for the remainder of the season, but Alderson said neither surgery nor an injection would not be required. The Mets maintain Santana has no current shoulder issue, and projected him to be fine for 2013. Santana compiled an 8.27 ERA in 10 starts after his June 1 no-hitter, and Collins again suggested Wednesday that he suspects the career-high 134-pitch effort took a toll on the southpaw in subsequent starts.
OH NO-NO
A comparison of Johan Santana's performance through the June 1 no-hitter, and in the 10 starts that followed.
Santana allowed six earned runs or more in each of his last five starts, a franchise record. His 4.85 ERA for the season becomes the highest for a left-handed starter in franchise history, topping the 4.63 ERA posted by Glendon Rusch in 2001. ESPN Stats & Information notes that while all of Santana's pitches were less intimidating after throwing the no-hitter, the biggest decline in effectiveness came from the changeup. Batters hit .143 against the changeup through the June 1 outing, then .304 in the next 10 starts.
Writes Anthony Rieber in Newsday:
Alderson did not disclose the exact cause of the inflammation. Dr. Andrew Hecht, an orthopedic surgeon and co-chief of spinal surgery at Mount Sinai School of Medicine who is not involved in Santana's treatment, said: "The most common causes of lower back inflammation in the area of L5 are herniated disc, spondylolysis and the inflammation of a facet joint. Rest, medication and exercise is a good, proper treatment plan." Spondylolysis is defined as a specific defect in the connection between vertebrae. Facet joints are the movable joints that allow flexibility in the spine.
Read more in the Post, Star-Ledger, Newsday, Journal, Record, Daily News and Times.
• Dillon Gee plans to travel to St. Louis today. With six weeks having passed since his surgery to repair a damaged artery in his pitching shoulder, Gee expects to undergo an angiogram on Friday and be cleared to begin tossing a baseball. Gee does not expect to return this season.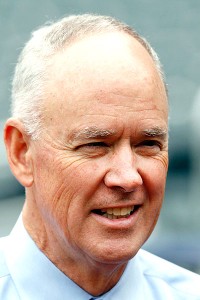 William Perlman/US Presswire
Sandy Alderson suggested trades may bolster the Mets in 2013.
• Alderson, appearing on WFAN, insisted he did not have a precise payroll for next season dictated from ownership yet, although a source has told ESPNNewYork.com the figure is expected to be close to this season's total. The GM did say this year's payroll would fall just less than $100 million when the entire season's spending is included.
"Obviously I'm fully aware we've got a lot of money tied up in two or three players," Alderson said, referring to 2013. "We've got some guys we'd like to keep here -- David Wright being one, R.A. Dickey being another. We've got some guys that are going to be eligible for arbitration for the first time. So we've done some calculations as to, OK, if we have 'X' amount of money, this is what we can do. 'Y' amount of money, this is what we can do."
Asked about making a big free agent signing during the upcoming offseason, Alderson instead suggested trades are a more likely route to improve the team for 2013.
"For the purpose of this discussion, let's assume the payroll is the same," Alderson said. "I don't expect the same team on the field. Look, we've watched this team for two years. We've gotten similar results the two years. There are some positives. ... We need to get better, and not incrementally. ...
"Now, there are a couple of guys we like. Lucas Duda is somebody that's still in our plans when he comes back up here. Look, when he was sent down, he was at a point where his offense was just not carrying his defense, and we just had to make a decision at that point that we couldn't live with the defense at the level of his production. But I expect that he'll be back. ... I think we will probably try him in left field. There are lots of left fielders with a lot of offense that aren't the greatest defensively. ...
"So we need an infusion of players -- productive players, players who are going to hit for power. There are only two or three ways to acquire those. I'd say the more likely avenue for us would be trades. Let's be honest: So if we're going to get a right-handed power hitter or a left-handed power hitter, what's it going to cost us? Maybe $10 million to $12 million a year. If you look at [Michael] Cuddyer and [Jason] Kubel and guys like that, [Josh] Willingham, those are not five-tool players, but they're very productive players. Is that a possibility for next year? I wouldn't rule it out at this point. Again, I don't think we know what our budget is going to be. I haven't had those conversations. And my job right now is to set up a series of possibilities -- high, low, medium. ...
"The positive aspect of our player-development system is we have a lot of pitching. We have a lot of pitching at Triple-A. We have pitching up and down the system. We have four or five guys at Brooklyn that have been lights out all season. So we definitely have trade chips. We have players that we can trade if we decided that is the way to go. So I think we have assets. I don't know what kind of cash assets we'll have. That's to be determined. But I think our system is in a much better position today to make trades than it was two years ago, even a year ago."
Alderson took responsibility for the bullpen's lackluster performance this season, since that is where he used his available dollars last offseason. The GM suggested Zack Wheeler optimally is on a 2013 track comparable to Harvey's this season -- begin next season in Triple-A, then debut during the season as the need arises. (Podcast here.)
• Kirk Nieuwenhuis will not require surgery on the partially torn plantar fascia in his right foot. But, after an examination, team doctors have determined Nieuwenhuis will not return this season. Nieuwenhuis struck out 98 times in 282 at-bats in 2012. That's the fewest at-bats per strikeout in a season in franchise history for someone with that at-bat total (2.88). Actually, Duda's 2012 rate (one strikeout every 3.27 at-bats) ranks second. The old record: Dave Kingman, who struck out every 3.28 at-bats in 1975 -- albeit while slugging 36 homers.
• Jeremy Hefner's wife Sarah gave birth to the couple's second child, daughter Jaylee Grace, at 11:55 a.m. Wednesday in Oklahoma. Hefner was placed on paternity leave Tuesday, with the Mets adding left-hander Robert Carson from Triple-A Buffalo. Hefner is slated to reenter the rotation Sunday against the Astros on two extra days of rest, as the Mets continue to use a modified six-man rotation that includes Dickey pitching every fifth game. Dickey, who faced the Rockies on Monday, again bids for win No. 16 on Saturday against Houston.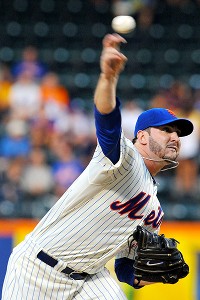 Jason Szenes/Getty Images
Matt Harvey allowed only one run in six innings, and had two hits at the plate, but received a no-decision.
• Harvey, who departed with the score tied after six innings, now has 43 strikeouts through his first six career games. He topped Nolan Ryan's former franchise record of 42, although Ryan did appear in one game in relief during that stretch in 1966 and '68. Read game recaps in the Times, Newsday, Star-Ledger and Daily News.
• Andrew Keh in the Times got player reaction to Collins addressing the team after Tuesday's game -- and whether the Mets are packing it in. Writes Keh:
On Wednesday afternoon, Collins's latest message was still being processed by his players as reporters milled around and waited for the latest disheartening announcement -- that Johan Santana, who has struggled mightily, would most likely be shut down for the rest of the season because of a back injury. Asked what he thought of Collins's remarks, Ike Davis dismissed as absurd the idea that a group of players would give up on a season because the losses were mounting. "This is our job," he said. "We're not going to go out there and not try hard, because the only way we make money is by trying hard." No one, Davis assured, would be packing it in, despite Collins's concern: "Everyone's going to try to do well because it's the only way, one, to win, and two, they'll stay in the big leagues."
• Mejia allowed one run on seven hits and a walk while striking out six in six innings in Triple-A Buffalo's 2-1, 12-inning loss against Scranton/Wilkes-Barre. Read Wednesday's full minor league recap here.
• Former Rutgers football player Eric LeGrand attended Wednesday's game, writes Andrew Harts at MLB.com.
• Bud Harrelson offered his support for Collins' job performance, in spite of the second-half swoon. I think Terry is doing a great job. He's got them hustling, but you can't hit for them," Harrelson told Howie Kussoy in the Post. "He's a very positive guy. He's not about the negatives. I think you have to have that good clubhouse. He thrives on the positives that are happening. He cheers for his players. He protects his players. I like what's going on."
TRIVIA: Who represented the Astros in last month's All-Star Game?
Wednesday's answer: Before Chris Young on Tuesday night, Chris Capuano was the last Mets pitcher to strike out the opening four batters of a game. He accomplished the feat on May 27, 2011 against the Phillies.