The Mets' freefall continued with a 3-1 loss Friday to the Houston Astros, who arrived at Citi Field having won only seven times in their past 50 games.
With Miami's loss at Dodger Stadium, the Mets did remain a half-game out of the NL East basement. But the Mets have now lost six straight, matching their season high, and Terry Collins said he is at a loss for a solution.
The Mets are winless through five games of their homestand despite facing a pair of last-place teams -- the Colorado Rockies and Astros.
With Friday's debacle, the Mets now have failed to exceed two runs in each of their past seven games. That is their longest streak of futility since having an identically long stretch in 1982, during a 65-97 season. The franchise record is 10 straight games of two or fewer runs produced, in 1964.
R.A. Dickey gets the start Saturday and bids for his 16th victory, on Mike Piazza bobblehead day at Citi Field. The knuckleballer opposes left-hander Fernando Abad, a call-up from Triple-A Oklahoma City. Abad, who has made 81 relief appearances in his major league career over three seasons, will be making his first big league start.
Saturday's news reports:
DEEP THOUGHTS
The all-time home run leaders in Mets history.
• The Mets' lone run Friday came from David Wright, who homered off the base of the right-field foul pole. It was the 200th homer of Wright's career. He became the third Met to reach that plateau, joining Darryl Strawberry (252) and Piazza (220). Wright became the 41st active player to reach 200 homers.
"That's a lot of home runs right there," Wright said. "I'm proud that I've been able to be as consistent as I'd like to think that I've been. I never would have thought that I would have been able to hit 200 home runs in the big leagues. So I'm very proud of that."
Wright joked that bargaining for the return of the memento from a fan was not too challenging. "A sophomore in high school, so it was pretty easy," he said.
Read more in the Star-Ledger.
• The Mets (57-69) dropped to 12 games under .500 for the first time since finishing the 2009 season at 70-92. They were hitless in four at-bats with runners in scoring position Friday, and are hitting .113 (8-for-71) in those situations over the past 10 days. Jonathon Niese suffered the latest tough loss for a Mets starting pitcher, despite limiting Houston to three run in seven innings. Niese has a 1.61 ERA over his past three starts. Read game recaps in the Times, Newsday, Star-Ledger, Daily News and Record.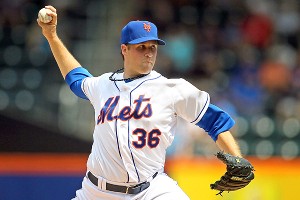 Jim McIsaac/Getty Images
Collin McHugh tossed seven scoreless innings in his major league debut Thursday, yet found himself headed back to Buffalo a day later.
• Collin McHugh became the roster casualty for the return of Jeremy Hefner from paternity leave. McHugh should make one start for Triple-A Buffalo while spending the required 10 days in the minors. He then is due to reenter the major league rotation. Collins reasoned that demoting McHugh made sense, despite the right-hander tossing seven scoreless innings in his major league debut, because the Mets did not need six starting pitchers with a team off-day Monday. Hefner is due to start Sunday. Read more in the Journal and Star-Ledger.
• Ex-Met John Maine limited Buffalo to two unearned runs in six innings and Scranton/Wilkes-Barre roughed up Jeurys Familia early en route to a 6-4 win against Buffalo. Cory Vaughn produced his 22nd homer in St. Lucie's win. Hicksville, L.I., native Cam Maron had a three-run homer as Savannah beat Rome, 6-2. Read Friday's full minor league recap here.
• Collins gave Daniel Murphy the first of two straight planned days off Friday. Justin Turner started at second base and went 1-for-3 and was hit by a pitch. "I'm no more tired than anybody else is," Murphy told Mark Hale in the Post.
Cody Derespina in Newsday looks at the case for and against re-signing Chris Young. Writes Derespina
The Mets are already running out of rotation spots for the 2013 season. If Johan Santana and Dillon Gee come back healthy, and there's not much reason to think they won't, the pair will join Jon Niese and R.A. Dickey to fill the first four spots. Then you have to consider Matt Harvey. And Collin McHugh. And an expected Zack Wheeler call-up. Plus, that's all assuming the team parts ways with Mike Pelfrey (he's eligible for arbitration, but could be non-tendered). If Young is willing to sign another minor-league deal, he could provide good insurance if one of the injured starters breaks down or Harvey regresses. But any kind of guaranteed deal would be blocking a rotation spot from a younger candidate that could be a part of the Mets' future. For his part, Young would do well to look for a role on a team where the future is now.
My take: The Mets need to sign a veteran hedge against a member of the projected five-man rotation (Johan Santana, Dickey, Matt Harvey, Niese and Dillon Gee) becoming unavailable, so as not to rely too heavily on prospect Zack Wheeler or McHugh. But the Mets probably would be better served signing someone for a low cost who could swing over to the bullpen assuming the projected rotation remained healthy. Young is pretty much locked into a starting role. Mike Pelfrey assuredly will get nontendered in December. Otherwise, the Mets would need to pay him at least 80 percent of this season's $5.6875 million salary.
• The deep-pocketed new owners of the Los Angeles Dodgers have made it possible to acquire Adrian Gonzalez, Carl Crawford and Josh Beckett from the Boston Red Sox. That's Crawford money and then some -- a whopping $261 million owed to those three players beyond this season, although Boston should pick up some of the tab.
TRIVIA: Where does Fernando Martinez, who signed with the Mets at age 16 in 2005, rank on the list of the franchise's largest signing bonuses for international free agents?
Friday's answer: Shawn Estes threw the pitch behind Roger Clemens at Shea Stadium when the Rocket finally batted against the Mets on June 15, 2002. Estes had not even been with the Mets when the original incidents between Clemens and Piazza occurred two years earlier. Estes pitched for the San Francisco Giants at the time.