Did Justin Turner recall his last homer before going deep in the sixth inning against Mickey Storey en route to the Mets' 3-1 win Saturday against the Astros?
Not exactly.
"Ummm, yeah, it was last year," Turner said. "I don't remember who is was off of."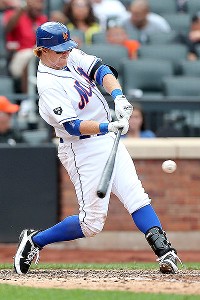 Jim McIsaac/Getty Images
Justin Turner's sixth-inning solo homer staked the Mets to a 2-0 lead Saturday.
Atlanta's Tommy Hanson. Twice in the same Aug. 6, 2011 game. Then came a 263 at-bat homerless streak, which became the longest drought on the team once Ruben Tejada went deep in San Francisco against Matt Cain on Aug. 1.
"It felt good," said Turner, who was starting for a second straight day Saturday, although he probably now returns to primarily a pinch-hitting role. "I've been struggling with balls on the inner half all season long. It felt nice to finally get the barrel out and square one up."
Said Terry Collins: "This guy came up last year when nobody expected anything -- as a matter of fact, we weren't sure how long he was going to be here -- and was a key to the lineup for the rest of the season."
Collins said he feels badly he has not been able to get Turner more playing time this season. The manager recently indicated Turner probably would see some time in spring training in the outfield, to increase his versatility and provide more playing-time opportunities.
Turner noted he played eight games in the outfield -- four apiece in left and right field -- in 2008, at Class A Billings as a Cincinnati Reds minor leaguer.
"We had a couple of outfielders collide," Turner recalled about the circumstances of his lone outfield dabbling. "Both had concussions. And instead of making a move, they sent me out to the outfield."
Turner now is hitting .281 with 17 RBIs in 139 at-bats this season. He had 435 at-bats in 2011.
"I don't like to make that an excuse for not having success," Turner said, referring to the relative lack of playing time. "It's just as easy to get into a slump when you're getting more at-bats than it is to get out of one. I just take it day by day, and when I'm in there I get prepared for three or four [at-bats]. And if I'm not in there I get in the cage and get ready to pinch hit."
Turner, by the way, is the club DJ. He had different cover versions of "Wonderwall" blaring from speakers attached to his iPod in the clubhouse before Saturday game continuously for an hour, although Turner was in a different room at the time and suggested he was unaware.
"Accidental," Turner said. "I was trying to put on a play list and it kept playing, I'm sure, different versions of it."
He then added: "Maybe we'll play it again tomorrow."