The Mets have a rule in the minors that prohibits pitchers from being used three straight days. Yet now, in the absence of Tim Byrdak, rookie left-hander Josh Edgin has been used in six games in a seven-day span in the major league bullpen.
Are the Mets using Edgin too much, putting him at risk of injury, like the excessive work that may have contributed to Byrdak requiring shoulder surgery? Or, at the very least, are they taking life out of Edgin's arm, which might have a negative impact on his 2013 performance?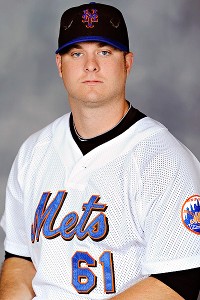 Courtesy of New York Mets
Josh Edgin
After all, Edgin has made 63 relief appearances so far this season between the majors and minors. That's a jump from 49 last year in Class A ball and 20 in his first professional season, in 2010.
Had the 63 relief appearances all been made at the major league level, Edgin would be one shy of the National League leader, the Chicago Cubs' Shawn Camp.
"We're very cognizant of how much he's pitched and how many times he's been up," Terry Collins said after the Mets beat the Astros, 3-1, Saturday. "We're going to watch him."
Still, Saturday's game marked the second straight day Edgin entered to face a lefty hitter with two out and none on, rather than Collins allowing a righty reliever to complete the inning.
On Friday, it was Edgin replacing reliever Manny Acosta with the Mets trailing by two runs in the top of the ninth to face lefty-hitting Scott Moore, who ended up flying out. On Saturday, it was with two outs in the eighth in place of Jon Rauch to face lefty-hitting Fernando Martinez and protect a one-run lead at the time.
"That's exactly how I think he should have been used, especially with Fernando," Collins said. "I mean, [F-Mart] can hit them in the upper deck. And he's very dangerous against righties. With those three lefties coming up [Martinez, Brett Wallace and Moore], I wanted those three guys to face him."
Wallace and Moore instead batted to open the ninth against Frank Francisco, after Edgin retired Martinez to end the previous frame on a flyout.