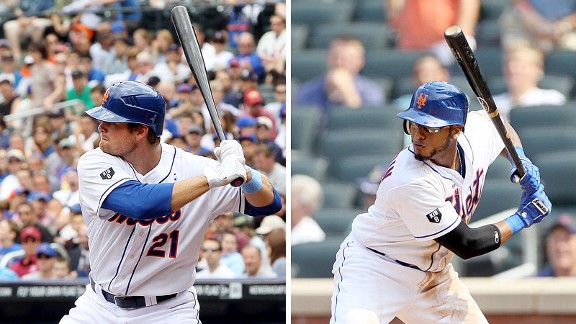 Jim McIsaac/Getty Images
Lucas Duda's return pushed Jordany Valdespin to Triple-A Buffalo.
Lucas Duda is back with the Mets on Sunday after more than a month in the minors, and is batting fifth against Houston. The team demoted Jordanny Valdespin for the accompanying move and he will be eligible to return after Triple-A Buffalo's Sept. 3 season finale.
"I went down there and tried to get my swing right and come up here and help the team any way I can," Duda said about his time in the minors.
Duda was demoted on July 24 and batted .260 with three homers and eight RBIs in 25 games. The 26-year-old said he worked on hitting to the left side of the field, saying it's his strength to go the opposite way, and he needs to do that in the majors to be successful. He's hitting just .241 with 12 homers and 44 RBIs. He believes he's correct his swing.
"Going into spring training there was a lot said about his importance in our lineup, what he was going to do production-wise. And when he started to struggle he got frustrated. That's human nature. He needed to go back and be the guy that that got here," Mets manager Terry Collins said. "Be that same guy that hits the ball all over the field. The power will always be there. The power will come with good contact. So he went down and tried to rekindle that same stroke that the had when he got here two years ago. As I told him this morning, I said 'Look, I know you were frustrated. Nobody wanted to send you out. We had to. We thought it was in the best interest of you getting better.' But I'm glad he's back. I think he's going to be a big part as we head into the last 35 games."
Duda initially was sullen in the minors. He was frustrated with himself that he had been given the opportunity as the team's right fielder and was not able to run with it the way we had liked. He's now going to be playing left field and some first base and believes he has time in the final five weeks of the season to try and salvage his season.
"Anything I can do to help the team that's what I'm here for and that's what I'm going to do," Duda said.
With Duda up, Valdespin was the casualty. He hit .163 (8-for-49) with one homer, four RBIs and a .241 on-base percentage in August, while getting regular playing time. On the year, he's hitting .242 with eight homers and 26 RBIs. Collins said Valdespin will be recalled in a week, after the rosters expand.
"We needed a spot. Lucas is going to play. I said go down there and play get yourself in the lineup," Collins said. "I want him to play some second base too. I don't want him to just stay in the outfield. I want him to move around a little bit. i think if he goes down and plays every day, those consistent at-bats I think will help him."