Ike Davis capped a two-homer game with his second career walk-off long ball and the Mets eked out a 2-1 win against the Houston Astros in Sunday's rubber game at Citi Field -- in the final meeting between the teams before Houston moves to the American League West for the 2013 season.
Davis, who has a team-leading 24 homers, went deep against Wilton Lopez with one out in the bottom of the ninth, a half-inning after Jeremy Hefner's shutout bid narrowly fell short. The first baseman also produced a walk-off homer against Edward Mujica in the 11th inning of a 2-1 win against the San Diego Padres on June 8, 2010 at Citi Field.
The Mets won only the second of their 13 series since the All-Star break. They also took three of four games in San Francisco from July 30-Aug. 2.
The Amazin's had not won consecutive home games since June 20 and 22. Amazingly, the Mets still have not produced more than one run in an inning since Aug. 18 -- a 73-inning drought.
Mets starters had a 1.65 ERA and averaged seven innings per game on the homestand, yet the Mets went only 2-5 against the Colorado Rockies and Astros, both last-place teams.
Now, the Mets enjoy a day off today before opening a three-city trip Tuesday in Philadelphia, with Chris Young (3-7, 4.33 ERA) opposing right-hander Vance Worley (6-9, 4.06) in the opener. Stops in Miami and St. Louis ensue.
Monday's news reports:
• A source tells Mike Puma in the Post there is "no chance" Terry Collins will be fired after the season.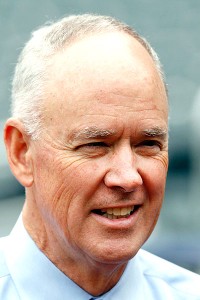 William Perlman/US Presswire
Sandy Alderson expects the 2013 payroll to be be comparable to this season's figure.
• Sandy Alderson said he expected the 2013 payroll to be in the vicinity of $100 million -- comparable to this season -- although he again maintained during a Q&A with season-ticket holders Sunday that he has yet to get a firm figure from ownership.
"I have not talked to Fred [Wilpon] or anyone else about where that payroll is going to be, but I'm hopeful we'll be in the same range if not somewhat higher," Alderson said. "But I can't confirm that at this point. What I look at is what our needs are and how we fill those needs. And there's no question that being able to add to the payroll is an important part of being able to address those. So is the willingness to make trades, trade prospects, bring players in from outside -- so lots of things to take into account.
"I wish I could tell you exactly where we're going to be. You can probably sense where my sentiments would be. It's something we have to address, various scenarios. We'll see exactly where we land. It's an important point, an important question, and I wish I could give you a better answer at this point. But I expect to be able to give you a better answer in the next few weeks -- well, before I have to spend it, anyway."
The GM expressed his intent to re-sign David Wright and R.A. Dickey, although that also was his official position with regards to Jose Reyes. Wright and Dickey are under control for next season through team options. Wright has indicated he is uninterested in negotiating during the 2013 season -- with Dickey less resolute on that subject. Essentially, the Mets have this offseason to try to negotiate an extension with Wright or he may be testing free agency.
"I fully expect that David Wright and R.A. Dickey will be here not only next year, but long term," Alderson said. "As you all know, we have options on both those players, and it's not our intention to simply rely on those options and go into next season and deal with their free agency after 2013. We're going to deal with it up front while we still have a little bit of room to maneuver. But we're committed to trying to bring those two back. I hope they'll both be back, and I'm excited about the possibilities they will be."
Charles LeClaire/US Presswire
David Wright says the decision to remain a Met beyond 2013 will be about the potential to win in addition to money.
Wright's decision will be based on winning in addition to money. And it should then be based a lot on winning, because Wright figures to be handsomely paid no matter where he signs. On that subject, Wright said postgame Sunday:
"I think that you want to experience winning. It's in our nature -- it's in my nature -- and that's going to be definitely a big factor in it. Once the season gets over I'll sit down with the people that are important to me and discuss what means the most to me and what factors are going to be important to me and kind of go from there. Again, I'm under team control next year. It's not like I'm a free agent or anything else. I'm under team control. As I've stated all year, the ball's kind of in their court. ...
"Of course I'd like to hear kind of the plan moving forward. That's fair to say. But I really haven't thought about the types of questions I would ask or the types of questions I'd like answered. I'm trying to finish the year strong, but I'm sure at some point that conversation will happen. Hopefully I can be a part of it.
"I think if you're talking a leverage standpoint, obviously the best leverage you can have is to become a free agent. I'm not necessarily looking for leverage. I'm not necessarily looking for every last penny I can make in this game. There's going to be a lot of factors that come into making an important decision like this, and like I said that's going to be something that I sit down after the season and really think about it. It's going to be a very important decision and an important time in my career. That will happen after the season is over."
Read more in Newsday, the Post, Star-Ledger, Daily News, Record and Journal.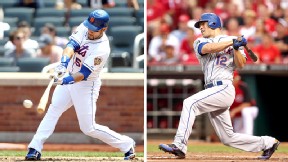 Getty Images
A source tells ESPNNewYork.com that Andres Torres and Scott Hairston are on waivers.
• Scott Hairston and Andres Torres have been placed on waivers, with a resolution about whether they are claimed coming this afternoon, a source told ESPNNewYork.com. Are the Mets even inclined to trade Hairston? That remains to be seen. They passed in July, and have maintained that it will be easier to re-sign Hairston if he remains with the organization.
The San Francisco Giants need an outfield bat, but whether Hairston would even get through to the NL West leaders remains to be seen. Any NL team with an inferior record can claim Hairston and essentially block a trade to San Francisco, since the Mets would need a tangible return and would be uninterested in just dumping Hairston's contract on the team with the winning claim. If Hairston were pulled back from a waiver claim, the Mets would be unable to trade him anywhere.
Meanwhile, here's an indication of Torres' profound struggles: During a four-strikeout game Sunday, the switch-hitter batted righty against the right-handed Lopez. In only three other plate appearances in his major league career -- twice in 2003, and once in 2010 -- had Torres batted from that side against a righty.
• Dillon Gee's angiogram in St. Louis on Friday revealed he has no lingering issue from surgery six weeks earlier to repair a damaged artery in his pitching shoulder. Gee will begin tossing a baseball next week. He is not aiming for a return to pitching in games until next season.
• Pitching four days after he joined wife Sarah in Oklahoma for the birth of his second child, daughter Jaylee Grace, Hefner took a bid for his first professional shutout into the ninth inning. "Maybe I should have more kids if I keep pitching that way," Hefner quipped. Hefner, who has only two complete games in 137 career professional starts between the majors and minors, took the mound for the final frame with a 1-0 lead. He surrendered a leadoff infield single to Jose Altuve. Altuve then stole second on a failed hit-and-run, courtesy of a poor throw by Kelly Shoppach. Houston evened the score at 1 and chased Hefner when Marwin Gonzalez sent a shot down the left-field line that Lucas Duda did not have the range to corral.
Duda (0-for-2, walk) and Shoppach had redemptive moments, though. On Ben Francisco's ensuing single to left field against Bobby Parnell, Duda fired a no-bounce strike home. Shoppach successfully blocked the plate to retire Gonzalez attempting to score the go-ahead run. Davis then won it in the bottom half. Read game recaps in Newsday, the Post, Star-Ledger, Times, Record and Daily News.
• Read more on Duda's return in the Star-Ledger.
• Slumping Daniel Murphy, who returned to the starting lineup after a two-game rest, departed with a right shoulder injury after an eighth-inning at-bat. Ronny Cedeno replaced Murphy the following half-inning at second base. Collins said Murphy felt his shoulder pop. The team described the injury as a strain in the back of the shoulder. But Murphy described it as a spasm and predicted he would be OK. He will undergo an MRI today. Murphy was hitless in four at-bats before departing and is now hitting .095 (4-for-42) in his past 13 games.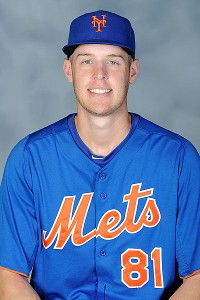 Courtesy of New York Mets
Zack Wheeler earned his first Triple-A victory Sunday.
• Duda's return seemed to bump Jordany Valdespin to Buffalo through when the Triple-A season ends, next Monday. But Murphy's injury has Valdespin in a holding pattern rather than leaving New York. The rookie could rejoin the Mets and be activated in Philadelphia if Murphy needs a DL trip. The requirement to spend the remainder of the season in the minors (or 10 days, whichever is less) is circumvented if a teammate lands on the DL.
• Zack Wheeler tossed a seven-inning complete game as Triple-A Buffalo beat Rochester, 1-0, in Game 1 of a doubleheader Sunday. St. Lucie's game, originally moved to a 10:30 a.m. start, ultimately was canceled because of the approach of Tropical Storm Isaac. Read Sunday's full minor league recap here.
• Michael Salfino in the Journal notes the Mets' second-half swoon may be historic. Writes Salfino:
No team that was more than five games above .500 before the break (the Mets were 46-40) had a second-half record worse than the Mets' 13-29 -- a .310 winning percentage. If the Mets keep it up, they'll sink even further than the 1983 Angels, who went 42-36 (.538) in the first half, then 28-56 (.333) in the second. But the effects of this Angels' collapse didn't linger: The next season, they finished 81-81. The Mets suffered a similar collapse in 1991, falling from 46-34 (.575) in the first half to 31-50 (.383) in the second. The next year, they played more like the post-all-star version, finishing just 72-90 (.444). But the 1973 Yankees proved that their first half was a better predictor of next year results. That team faded from 57-44 (.564) to 23-38 (.377) after the All-Star Game, but played .549 ball (89-73) in 1974.
• Marc Carig announced on Twitter that he would be leaving the Yankees beat for the Star-Ledger to cover the Mets for Newsday.
TRIVIA: Which players came to the Mets in their last trade with the Phillies?
Sunday's answer: David Cone (20 wins, 1988) and Dwight Gooden (24 wins, 1985) reached the 20-win plateau as Mets and also pitched for the Yankees during their careers.