Collin McHugh, who tossed seven scoreless innings in his major league debut, has chronicled his life as a Mets minor leaguer on his personal blog, "A Day Older, A Day Wiser" for years. He periodically has those entries carried on ESPNNewYork.com as well.
I'm coming off perhaps the best start of my career, my MLB debut. Seven shutout innings, nine K's ... I didn't throw up.
Seriously though, stepping onto the hill at Citi Field was a thrill I can't seem to find the words to describe. Fun. Exciting. Nerve-wracking. These encompass only a part of the emotions coursing through my veins that day. There were those weird butterfly stomach noises that seemed unending. The restless legs that took to the rhythm of whatever was playing over the clubhouse speakers. ... Then the clock began.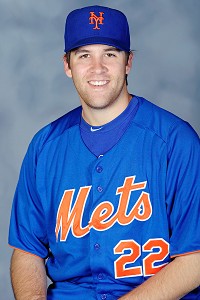 Courtesy of New York Mets
Collin McHugh
Every start I've had for the last five years has begun the same way. One hour before game time I begin my process of preparing physically and mentally for the outing ahead of me. Some treatment for my arm. Going over the scouting reports on opposing hitters. Putting on my uniform the same way each time. Pants. Jersey. Cleats. Chewing gum. Jacket. Towel. Down the stairs to the dugout. Out the the bullpen.
And once that ball touches my fingertips, the world slows down to a crawl. My focus narrows and I feel the laces, searching around for one that is slightly more raised than the others. The first time I let the ball fly my body remembers what it's been doing since I was 10 ... pitching. Once that clock begins, whether at Citi field or the local sandlot, I become familiar. I become comfortable. Aug. 23, 2012 was no exception. MLB debut or not, the clock overcame nerves just as it's done so many times through the years.
Now, my wife and I find ourselves back in Triple-A Buffalo. You may say that seems unfair. Perhaps you have some witty quip about how I should've just thrown better. But the truth of the matter is, there have been many times in my career where I was convinced it was all over, only to make it out on the other side no worse for the wear. This pit stop on our baseball journey (or life, as we call it) is just another checkpoint. For reference, I'll revisit a few of the more desperate (and now laughable) times through which we came to our current contentment...
I had run up an ERA of over 5, my arm was hanging on by a thread, and I just didn't really know how to pitch. I got a start (one of only a handful that season) against the White Sox rookie-ball team, Bristol. I don't remember my exact line, but I do remember (vividly) the despair that met me afterward on the steps of my rundown apartment. I sat and stared at my phone, trying to summon up the courage to call my wife (then girlfriend) and tell her that I was a failure. As I was losing the nerve, she called me. When she heard my dejected tone and asked what the matter was, I told her the bad news. I had thrown pretty poorly and was 100 percent convinced the team wouldn't want me back come sunrise. Self pity turned to tears, which turned to anger, which made me tired ... which led to sleep. Once I had woken up and realized the new day had not brought my release papers, I learned my first important lesson of pro ball: Don't be dramatic. It's just one outing.
Savannah, Ga. 2010. Low-A, South Atlantic League. Having watched my best baseball friend, Mark Cohoon, throw three consecutive complete-game shutouts -- giving up less hits in 27 innings than I had in one inning during my last start -- I was losing my mind. There were six pitchers in the rotation, four of which were going to the All-Star game, and the next level soon after that. The other starter and I were vying for most mediocre season in the history of mediocre seasons. I knew there was a strong chance that, unless I had the second half of my life, I was destined to repeat the level. Meaning my career would go from a crawl to a ... whatever is slower than a crawl. For the first time (and every year after) I looked at myself in the mirror and said to myself, 'Nobody will have a better second half than you.' I ended my first full-length season with a 3.33 ERA and 129 Ks. I don't know if it was the best second half in the organization, but it was good enough to make it to the next level."
Binghamton, N.Y. 2011. Double-A spot start. I threw six pretty good innings in a promotion I didn't deserve, and was left in limbo wondering if/when I would get sent back down. One start turned into a relief outing, which turned into a couple more subpar starts, all culminating in what I had decided was my imminent retirement. Between the toll my career was taking on our marriage and the odds against ever making it out of Double-A, I had the farm director dialed into my phone ready to make the toughest call of my life. I don't know exactly what stopped me from going through with it. Maybe it was Ashley telling me it was the easy way out, despite how much she would have appreciated a stability baseball could not seem to provide. Maybe it was the hundreds of friends and family who were (and still are) dedicated to praying for wisdom for me. Or maybe it was the gut feeling that the journey just didn't seem over quite yet.
For my wife, it was the realization that perceived success or failure in your life is far less important than who you're becoming along the way. Whatever the reason, I put the phone down and kept on keeping on. Ashley and I made the agreement soon after that we would ride this baseball thing out as long as we felt called to it -- we shook on it. From that day, the calling has only gotten stronger and more focused. With a new lease on baseball, my high-A ERA of 6.31 narrowed into a Double-A ERA of 2.89. Most importantly, we started to have fun again.
There have been too many times in my life where, if I was a betting man, I wouldn't have bet on myself. But I just spent three of the best/craziest/most exhilarating days of my life pitching for the New York Mets. Which just goes to show you, betting against anyone in this game is the real gamble.
That being said, our trip from Buffalo to NYC to Buffalo is one met with excitement, not dread, pity or fear. We've learned that embracing the mystery of what's ahead makes the present, whether good or bad, just another part of the journey -- not the determining factor of where we'll end up.
So if and when we do happen to meet up again in Queens, know that it wasn't by accident or fate, but definitely on purpose.