PHILADELPHIA -- After an off-day, the Mets begin a three-city trip at 7:05 tonight at Citizens Bank Park. Chris Young (3-7, 4.33 ERA) opposes Phillies right-hander Vance Worley (6-9, 4.06) in the series opener.
Read the series preview here.
Tuesday's news reports:
• Daniel Murphy underwent an MRI on his right shoulder Monday. The team announced Murphy's exam did not reveal anything alarming, and described his injury as limited to rotator cuff stiffness. The Mets had held back demoted Jordany Valdespin from reporting to Triple-A Buffalo because of uncertainty about whether Murphy would land on the disabled list. But Murphy should be ready to play tonight, according to the team statement. Read more in the Star-Ledger.
• Scott Hairston was claimed off waivers, but reportedly that was merely a blocking maneuver by an NL team that had no interest in acquiring him, so Hairston will be unable to be traded. The Mets, aiming for meaningful games in September and maintaining they could not land a top-30 prospect in any organization, passed on trading Hairston before the July 31 non-waiver trade deadline.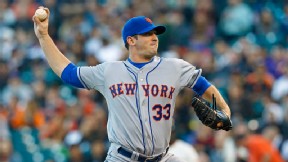 Jason O. Watson/Getty Images
Matt Harvey, who faces the Phillies on Wednesday, has proven quite a hitter in his major league career.
• Anthony Rieber in Newsday looks at Matt Harvey's prowess -- as a hitter. Writes Rieber:
Harvey, 23, was a first baseman and pitcher before he got to the University of North Carolina , but the Tar Heels took his bat. "The separation happened when he went to college," [father] Ed Harvey said. "All the showcases that he had gone to, they wouldn't let him hit. They were all afraid he was going to get hurt. He always wanted to hit. He told me he asked the coaches a few times to let him hit, and of course they said, 'No, no, no, no. We can't afford to get you hurt swinging a bat.' "He's a real good first baseman, too. He didn't hit a lot of home runs in high school, but he hit some tape-measure jobs. One of the towns that we played [East Lyme], they still talk about when he hit one three-quarters of the way up a light pole out in leftfield."
Read more on Harvey in the Record.
• Upon returning to the majors Sunday, Lucas Duda summarized his demotion this way: "I didn't produce and I didn't play well. At the time I was disappointed in myself more than anything else because I was given this opportunity to play every day and I felt like I didn't make the most of it. If you don't produce, you don't play and that's how it is and how it should be." Read more in the Journal and Daily News.
• Collin McHugh, who is due to start today for Buffalo, wrote a blog entry reflecting on points in his minor league career when he nearly walked away from baseball. Writes McHugh, who tossed seven scoreless innings in his major league debut against Colorado on Thursday:
I sat and stared at my phone, trying to summon up the courage to call my wife (then girlfriend) and tell her that I was a failure. As I was losing the nerve, she called me. When she heard my dejected tone and asked what the matter was, I told her the bad news. I had thrown pretty poorly and was 100 percent convinced the team wouldn't want me back come sunrise. Self pity turned to tears, which turned to anger, which made me tired ... which led to sleep. Once I had woken up and realized the new day had not brought my release papers, I learned my first important lesson of pro ball: Don't be dramatic. It's just one outing.
McHugh is likely to be limited to five innings and 75 pitches in his final Buffalo start because the Mets plan to return him to the major league rotation for his next start.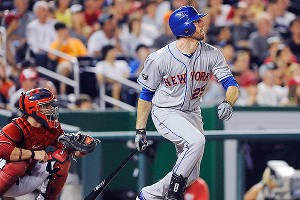 Brad Mills/US Presswire
Despite a dreadful start, Ike Davis now has 24 homers.• Ike Davis credits a change in his stance for his turnaround after a slow start to the season. Writes Mike Vorkunov in the Star-Ledger:
On July 24, Davis switched form. He took to a crouch and eschewed his normal front-leg kick. The results were not immediate: he struck out in his first at-bat. Yet, soon they came to be pronounced. Davis' average ticked up, his power numbers have escalated. He credits the change to his stance for his turnaround. "This year has been so weird because I've never hit like this, really, but I actually kind of like where I'm at because I can see off-speed a lot better," Davis said. "I don't chase as much, I'm seeing the ball better from more of a squatter position. Before I was really tall and really only hit fastballs for home runs or inside sliders. Now I have chances where if he hangs a curveball to hit it out or drive it. Next year, who knows where I'll be. But right now this is what I feel comfortable doing."
• Rainy Lara tossed six scoreless innings and Brooklyn held on in the ninth to defeat Aberdeen, 2-1. Read Monday's full minor league recap here.
TRIVIA: Who enters the series against the Phillies leading the Mets in steals?
Monday's answer: In their last trade with the Phillies, the Mets acquired Bruce Chen and minor leaguer Adam Walker for relievers Turk Wendell and Dennis Cook on July 27, 2001.