PHILADELPHIA -- Kelly Shoppach, who has been with the Mets for less than two weeks, already has as many homers as the rest of the team's catchers combined this season.
Shoppach contributed a game-tying RBI double in the eighth inning Tuesday, then added a two-run homer against B.J. Rosenberg in a four-run 10th as the Mets beat the Philadelphia Phillies, 9-5, Tuesday night at Citizens Bank Park.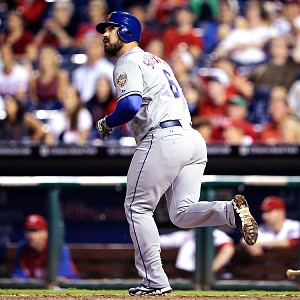 Matt Slocum/Associated Press
Kelly Shoppach tracks his 10th-inning two-run homer, which gave the Mets a four-run cushion.
Shoppach now has two homers in 22 at-bats since joining the Mets. Josh Thole, Mike Nickeas and Rob Johnson have a combined two homers this season in 426 at-bats.
The four homers produced by Mets catchers this season ranks last in the majors.
Entering the day, the Mets' 37 RBIs from the catching position this season ranked 28th in MLB, ahead of only the Cincinnati Reds (35) and Los Angeles Angels (34).
"I thought he's handled the pitching staff very well when he's caught," Terry Collins said about Shoppach. "There are some things he's done behind the plate that I really like a lot. He's getting used to the different guys. Certainly the more you catch them the more acquainted you become with them. And we saw tonight, when he hits them, they go a long way."
Said Shoppach of the Mets' pitchers: "For me, it's more getting to know their personalities -- understanding how they tick. They're all talented. Trying to learn what they do well is a challenge. You can only do that in-game. So I think it's important for me to get around and talk to these guys every day and try to figure out what they need from me on the mental side of it when we're out there in competition."
The primary question with Shoppach's acquisition is whether the Mets were wise giving up Pedro Beato to obtain him, since Shoppach will be a free agent after the season.
Mets officials reasoned that they would be best able to gauge Shoppach's worthiness to re-sign if they had him with the team for the final weeks of the season, rather than scouting him elsewhere. They also felt exposing Shoppach to the clubhouse would give them an advantage in potentially re-signing him to pair with Thole next season as a low-cost catching tandem.