PHILADELPHIA -- Lucas Duda delivered a two-run homer, Matt Harvey limited the Phillies to two runs in 6 1/3 innings and relievers Josh Edgin, Robert Carson, Jon Rauch and Frank Francisco combined to retire the final eight batters without a blemish as the Mets beat Philadelphia, 3-2, Wednesday night. The Mets pulled into a third-place tie with Philadelphia in the NL East, although Terry Collins insisted that was not a goal -- just to get to .500.
The Mets are now 7-1 at Citizens Bank Park this season. And they already have clinched their third series win in Philadelphia in 2012. The only other season in which the Amazin's won three series of three-plus games in the City of Brotherly Love came in 1989.
One boost has come from the bullpen, which has tossed 8 1/3 scoreless innings in the series and 14 1/3 scoreless innings over the past six games. Meanwhile, in his past three starts, Harvey is 2-0 with a 1.80 ERA and 23 strikeouts in 20 innings. He's also hitting .462 (6-for-13) with three RBIs this season.
Thursday's news reports:
• Collins acknowledged pregame that Harvey is expected to be shut down before the end of the season due to an innings limit. Including Wednesday's workload and his minor league duty, Harvey has now logged 152 1/3 innings. Sandy Alderson previously suggested Harvey may be capped in the 165- to 170-inning range, although a team insider said the total may get to 175.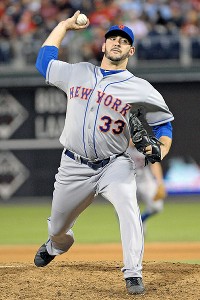 Eric Hartline/Associated Press
Matt Harvey limited Philadelphia to two runs in 6 1/3 innings Wednesday.
• Read game recaps in the Post, Newsday, Times, Daily News, Record and Star-Ledger.
• Kelly Shoppach started the past two games, although Collins said Josh Thole now would catch through Saturday, with Shoppach's next opportunity Sunday in Miami against southpaw Mark Buehrle. The manager said Shoppach needs to play enough so the Mets can gauge if he's a match for 2013. Thole is 0-for-21 over his past seven starts. "We're going to see more righties than lefties," Collins said. "I want to give Kelly a shot. We brought him here to find out if it's going to be a fit. So I think he needs some playing time to find that out." Read more in the Times, Post, Star-Ledger, Record and Newsday.
• The Mets' seven-member Arizona Fall League contingent will be composed of right-handers Ryan Fraser and Greg Peavey, left-handers Adam Kolarek and Chase Huchingson, infielder Danny Muno and outfielders Darrell Ceciliani and Cesar Puello. St. Lucie manager Ryan Fraser will serve as a hitting coach for the Surprise, Ariz., team.
• Gonzalez Germen allowed one run in seven innings as Binghamton beat Reading, 6-2. Read Wednesday's full minor league recap here.
• Brian Costa in the Journal notes the Mets work quickly on the mound. Writes Costa:
The Mets entered Wednesday averaging just 20.4 seconds between pitches, according to FanGraphs, the fastest pace in the majors. Their starting pitchers have been particularly brisk, averaging 19.4 seconds between pitches, more than half a second faster than any other team. There is, of course, no trophy for working the fastest. And speed is not a prerequisite for success. But Mets pitching coach Dan Warthen strongly discourages pitchers from dawdling on the mound.
"We want them to be the aggressor all the time," Warthen said. "We want them to get on the mound, throw the baseball and at least have the appearance of, 'We're going after you. This is our game, and you have to hit me.'" Section 8.04 of the Major League Baseball rulebook requires pitchers to release the ball no more than 12 seconds after receiving it when the bases are empty and the batter is in the box. But the rule doesn't cover situations with men on base. And since umpires don't have stopwatches, it's more of a request than a requirement.
TRIVIA: Who led the Mets in wins during the 1989 season -- the last time the Mets won three series of three-plus games in Philly? (Hint: It was a three-way tie.)
Wednesday's answer: The only first basemen in Mets history to produce more homers than Ike Davis (24) in a single season are Carlos Delgado (38 twice), Dave Kingman (37), Eddie Murray (27) and Mo Vaughn (26).