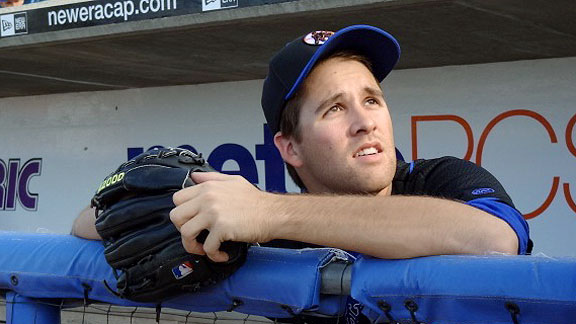 Adam Rubin
Collin McHugh, who returns to the majors on Monday to face the St. Louis Cardinals, temporarily is assigned to Buffalo.
ALLENTOWN, Pa. -- After Double-A Binghamton's season ended last year, Collin McHugh attended a September game between Mets and Braves as a fan at Turner Field in his native Atlanta.
This time, McHugh will have a dugout view for Chipper Jones' retirement ceremony on Sept. 28, which happens to be before a game against the Mets.
Heck, if things line up correctly, McHugh may face the player he grew up cheering, in Jones' last regular-season series in Atlanta before retiring.
First, though, McHugh returns to the majors to face the St. Louis Cardinals on Monday at Busch Stadium.
After tossing seven scoreless innings in his major league debut Aug. 23 against the Colorado Rockies, the Mets sent McHugh to Triple-A Buffalo to clear a roster spot for the return of Jeremy Hefner from a three-day paternity leave for the birth of his daughter in Oklahoma.
Working on a tight pitch count during the cameo with the Bisons, McHugh allowed two runs on three hits and two walks while striking out three in 4 2/3 innings against Rochester. He threw 69 pitches.
"I knew it was going to be a short pitch count," McHugh said. "You go into thinking, 'Do everything the same. Do everything the same.' But sometimes it's a little tough to focus when you know you've only got five innings tops. So you try to make the most of it and press. But overall I felt pretty good about it."
As for pitching in St. Louis against the Cardinals, who currently occupy the second wild-card spot, with a lineup that includes sluggers Matt Holliday and Carlos Beltran, McHugh said: "I hear it's a great stadium. It's Labor Day and maybe sold out. It should be fun. I really never get worried about stadium settings. Granted, I've never been in something like this before. But once you get out there, it really calms down a little bit. I'm sure I'll hear the roar at some point, but it should be a fun experience."
More than a week after his major league debut, McHugh still describes his major league debut as "a little bit surreal."
Said McHugh: "When I talk to my family and my friends back home, they kind of remind me that it actually happened and keep me a little bit honest. It's been really cool to decompress with my family and go over what happened and think about it. They keep reminding me that, 'Hey, you've still got work ahead of you. Don't let down. Don't rest on this.' I've always had people like that in my life to push me along, which is good."
McHugh has a fan in Wally Backman, who managed the right-hander in Binghamton last year, and now with Buffalo.
"I got him last year out of A-ball, and they were going to send him back to A-ball," Backman said. "I convinced them to let me keep him. He pitched out of the bullpen and then he started. And he was probably my most consistent starter last year. I think he was 8-2 last year. The kid really knows how to pitch. He's an intelligent guy. He can read hitters' swings. So he's pretty much in control of his game the whole time. I call his breaking ball a 'Bugs Bunny breaking ball' because it's slow and got a lot of bite late."
McHugh said he has not started studying video of the Cardinals, but he has sneaked a peek on TV.
"They played on ESPN the other day against Pittsburgh," McHugh said. "I saw Wandy Rodriguez pitch against them. He threw like six shutout innings. I was like, 'That doesn't look that hard.' But, no, they've got a good lineup. So it's going to be a challenge probably, a little more so than it was against Colorado."