ALLENTOWN, Pa. -- Zack Wheeler's 2012 season is in the books. And, truth be told, the workload did feel like a 34-inning jump from the previous season.
"I think it feels that way, to tell you the truth," Wheeler said. "If they needed me to go longer, I could go longer. But it's definitely felt like 150 innings."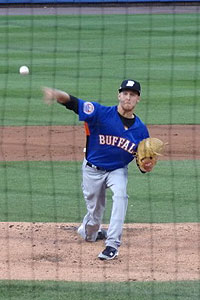 Adam Rubin
Zack Wheeler completed his 2012 season Saturday with Triple-A Buffalo.
Wheeler -- the prized prospect who arrived from San Francisco in the July 28, 2011 deal for Carlos Beltran -- completed his first full season as a Mets farmhand by limiting Lehigh Valley to one run on two hits and four walks while striking out five and issuing a wild pitch in five innings. The lone damage came on a second-inning solo homer by Lehigh Valley first baseman Cody Overbeck. Showing his customary poise, Wheeler stranded a runner on third base in each of his final four innings. Buffalo beat the IronPigs, 6-3, Saturday.
Wheeler had the abbreviated outing because the Mets are capping his innings count. Now shut down for 2012, Wheeler logged a combined 149 innings between Double-A Binghamton and Buffalo. He went 12-8 with a 3.26 ERA between the two levels. He allowed 115 hits and 59 walks. He struck out 148, the most of any minor leaguer in the organization.
GM Sandy Alderson said the intention is for Wheeler to open next season in Triple-A as well, with a major league debut at some point in 2013.
Given that minor league teammates Collin McHugh and Matt Harvey have debuted successfully in the majors, Wheeler clearly is within striking distance.
"I'm happy for both of them," Wheeler said. "They both proved themselves up there at that level. I guess I'm sort of right behind them, so it opens my eyes a little bit. I've been watching McHugh pitch the whole year. I've sort of been learning from him, too."
Said Buffalo manager Wally Backman: "He's got some more maturing to do, but his stuff is incredible. His fastball is very explosive. He keeps it down in the zone. His breaking ball is a plus breaking ball. I mean, if you graded this kid out, his fastball is a 70 (on the scout's scale of 80 being the near-perfect). His breaking ball is probably a 60 or 65. And his stuff is for real. I think he's a kid that needs a little bit more seasoning. He could very possibly go to the big leagues at some point next year."
Wheeler made six late-season starts with Buffalo. The jump from Double-A to Triple-A did open his eyes to areas that require attention.
"They don't swing at side-to-side pitches. They'll swing more at up-to-down," Wheeler said about the higher level. "The strike zone is a little tighter. Guys wait on their pitch more. If you can't get over your offspeed pitches for strikes, they're just going to sit on your fastball, and they can hit that. You've got to be able to get your offspeed over for strikes and I think you'll be successful."
As for the offseason, Wheeler plans to train in his native Georgia with Braves outfielder Jason Heyward, as he has done in previous offseasons. This winter, though, Wheeler intends to throw to Mike Nickeas, who also lives in Atlanta. McHugh and Harvey both threw to Nickeas last offseason at Georgia Tech and should continue to do so as well.
"Now that I know Nickeas, I guess I'll go down there and throw with them, too," Wheeler said.