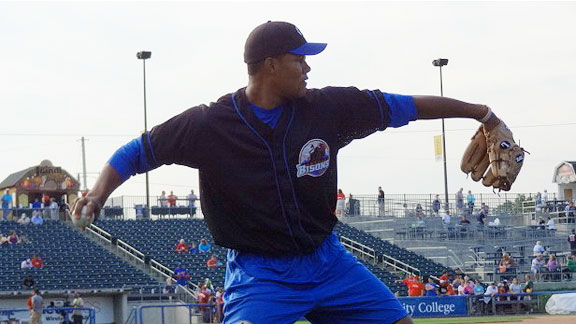 Adam Rubin
Expected September call-up Jeurys Familia plays catch before Saturday's game at Lehigh Valley.
ALLENTOWN, Pa. -- Jeury Familia's statistics at Triple-A Buffalo this season are not overwhelming. The 22-year-old right-hander, who made his final International League start Friday, compiled a 9-9 record and 4.73 ERA in 28 starts. In 137 innings, Familia allowed 145 hits and 73 walks while striking out 128.
Yet when Buffalo manager Wally Backman quizzes opposing players who have appeared in the majors, including Lehigh Valley's Pete Orr, they suggest Familia has the best movement on his fastball of any Bisons starter.
"Way legit," Backman labels Familia. "His fastball is 94 to 96 mph, even 97 at times -- with sink. And I think incredible sink. Late sink. All of the hitters I've talked to who have played in the big leagues -- Pete Orr over here, I know he's got five years [in the majors] as a part-time player -- these guys, they rave about what kind of movement is on the fastball."
Collin McHugh is due to start Monday in St. Louis, joining already promoted Mike Nickeas and Zach Lutz. After Buffalo's season concludes tomorrow, Familia as well as Jenrry Mejia, Elvin Ramirez and Fred Lewis are expected to join them as September call-ups. Matt Tuiasosopo may get the call, too.
"I'll be so excited because I'll make my dream," Familia said when asked about his emotions should he get promoted. "I don't know how I'm going to feel."
Familia knows he needs to harness his control, although he did improve in the second half. He walked 22 in 21 2/3 innings in April. By August, that walk total was down to 12 in 33 2/3 innings.
"I think early in the season I struggled with my command -- my fastball command," Familia said. "But in the end I've been pitching better."
Many scouts project Familia as a major league reliever. (He may appear in Buffalo's season finale Monday in that role.) Backman believes Familia could thrive as a starter as well.
The Bisons manager added that whether it's Mejia, McHugh or Familia, major league need ultimately could dictate where the Mets use them. If the rotation ends up being R.A. Dickey, Johan Santana, Matt Harvey, Jon Niese and Dillon Gee in 2013, then any or all of that young trio could contribute to the Mets in the bullpen next season.
"I think the starting rotation, whenever his time his, will really dictate if he's a starter or a bullpen guy," Backman said about Familia. "His changeup is good enough. His breaking ball is plenty good enough. It's a power slider. He calls it a curve, but it's really more like a slider. His fastball has tons of movement. You're talking about a guy who is a strong kid, that when he pitches into the seventh -- he pitched into the eighth one time -- he's still 94 to 97 mph. So the strength is definitely there."
Backman, too, cites consistency as an area to improve.
"I thought he was better for me last year," Backman said, referring to their time in 2011 at Double-A Binghamton. "This year he's just off and on. And when he's on, he's pretty good."
Familia was in big league camp during spring training. Miguel Batista was particularly helpful to him there. They have continued to exchange texts during the season.
"The best thing, for me, is I was working with Miguel Batista," Familia said. "He tried to help me with everything -- how to throw my changeup, my slider. And in what count I have to throw some pitches like a fastball, changeup and my slider. They tried to help me with everything."