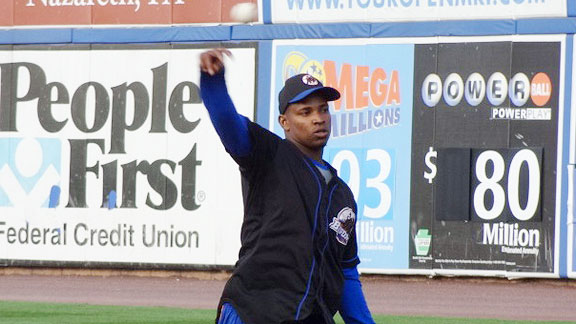 Adam Rubin
Jenrry Mejia is expected to be promoted to the majors with Buffalo's season ending Monday.ALLENTOWN, Pa. -- Jenrry Mejia's season officially began May 9 with Class A St. Lucie, seven days shy of the one-year anniversary of Tommy John surgery.
Mejia then jumped to Double-A Binghamton for a pair of mid-May starts before entering Buffalo's rotation May 30.
Mets officials, though, viewed Mejia as a potential contributor in the majors as a reliever, so they eventually ended what was considered a rehab phase as a starting pitcher and inserted him in Buffalo's bullpen beginning June 15. The result: a 5.48 ERA in 16 relief appearances.
Because of the struggles, Mets brass eventually reverted Mejia back to starting duty with the Bisons, which largely was successful. Mejia did allow 11 runs in 12 innings over his final two Triple-A starts this season, including six runs in six innings Sunday at Lehigh Valley. But his ERA as a starter in the International League nonetheless finished at 2.75 – nearly three full runs a game better than as a reliever.
Mejia is now expected to be a September call-up for the Mets. Terry Collins said he plans to have Mejia make starts down the stretch, especially with Matt Harvey due for a shutdown. Still, Mejia may wind up in the Mets' bullpen in 2013.
Zach Lutz and Mike Nickeas already have joined the Mets from Buffalo. Collin McHugh is due to start in St. Louis on Monday. The remainder of the call-ups should include right-handers Jeurys Familia, Elvin Ramirez and Mejia as well as Jordany Valdespin, outfielder Fred Lewis and possibly third baseman/outfielder Matt Tuiasosopo.
Mejia last pitched in the big leagues on Sept. 15, 2010, when he allowed an unearned run in a 45-pitch effort over 2 1/3 innings as a starter against Pittsburgh. Mejia made the Mets that season as a reliever out of spring training with the front office and manager Jerry Manuel prioritizing their own preservation over Mejia's development.
"I waited for a long time for that," Mejia said this weekend about a potential return to the majors. "I want to be there."
Despite the disparity in numbers for Mejia in starting versus relief work, Buffalo manager Wally Backman does not rule out Mejia adapting to bullpen duty for the Mets at some point. Backman noted that Mejia contributed 5 1/3 scoreless innings over his final three relief appearances with Buffalo before the Mets pulled the plug and put him back in the rotation.
Backman figures Mejia ultimately may wind up back as a reliever if for no other reason than one area of depth with the Mets is starting pitching.
"You know what? He had never really relieved before, until he got to the big leagues for the short time," Backman said. "They sent him back to Triple-A and he started. And then he got hurt. So this year he started as a starter. And we put him in the bullpen. And, believe it or not, I think it was his last three outings in the bullpen, he was pretty good. Then we all of a sudden started him again. To me, he was figuring it out.
"He's got the stuff to start, too. But you can't have 10 starters. Pitching is definitely the bright spot for the Mets, without question."
"Starting or relieving, the only thing I have to do is my job," Mejia said.
Still, Mejia added: "I like better starting, because I have more time to get ready."
Mejia, whose signature pitch is the cutting action on his fastball, actually is up to four pitches in his repertoire. In addition to the curveball and changeup Mejia already throws, Mets rehab coordinator Jon Debus taught the right-hander a two-seamer (sinker) early this season in Port St. Lucie, Fla. Mejia utilizes the two-seamer particularly to righties, to induce groundballs with men on base.
"When I pitched in my first game there, he said to me, 'Throw the two-seamer. It doesn't matter if you hit somebody. You have to learn,'" Mejia said.
As for the year rehab from Tommy John surgery, Mejia said he had put the elbow issue behind him by the time he reached the Triple-A level of his comeback.
"I felt a little bit tightness. It's a process," Mejia said about the initial games. "Sometimes you feel pretty good. Sometimes you're tight. But when I got to Buffalo, I started to throw five innings, six innings. There I knew I felt ready."