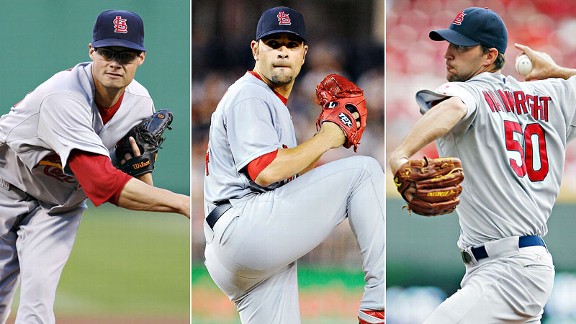 US Presswire
The Mets face (l to r) Joe Kelly, Jaime Garcia and Adam Wainwright at Busch Stadium.
METS (64-70, third place/NL East) vs. ST. LOUIS CARDINALS (72-62, second place/NL Central)
Monday: RHP Collin McHugh (0-0, 0.00) vs. RHP Joe Kelly (4-6, 3.61), 2:15 p.m. ET
Tuesday: RHP Matt Harvey (3-3, 2.76) vs. LHP Jaime Garcia (3-6, 4.52), 8:15 p.m. ET
Wednesday: RHP R.A. Dickey (17-4, 2.63) vs. RHP Adam Wainwright (13-11, 3.90), 1:45 p.m. ET
Cardinals short hops
• St. Louis returns from a disappointing 4-6 trip despite opening the three-city excursion by taking two of three from division-leading Cincinnati. Cardinals batters went 40 straight innings without producing an RBI and were shut out three times, including consecutively in Pittsburgh in games started by James McDonald and Wandy Rodriguez.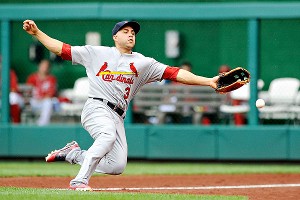 Patrick McDermott/Getty Images
Carlos Beltran departed Sunday's game with a knee injury.
St. Louis nonetheless occupies the second wild-card slot in the National League, a half-game ahead of the Los Angeles Dodgers and 1½ ahead of the Pirates. Yet despite leading the league in runs scored (646) and on-base percentage (.338), the Cards have been inconsistent. They hit for power and explode some games, but struggle with runners in scoring position and fail to score in others.
• Rafael Furcal has been sidelined since Aug. 30 with a ligament tear in his right elbow. He is attempting to rehab rather than undergo Tommy John surgery. Daniel Descalso is manning shortstop in Furcal's absence.
• Carlos Beltran suffered a left-knee injury on a slide Sunday. He took the field the following half-inning hoping a ball was not hit to him, but ultimately left the game. Since July 2, Beltran is hitting only .206 with eight homers and 25 RBIs in 199 at-bats.
• Top pitching prospect Shelby Miller is due to join the Cardinals with rosters expanded and may see action in the bullpen -- although it's conceivable he could end up in the rotation given St. Louis starting pitchers' recent collective struggles. Miller, 21, was the 19th overall pick in the 2009 draft out of high school in Texas.
• Yadier Molina absorbed a wicked plate collision that involved Josh Harrison delivering his shoulder into the catcher's head last Tuesday in Pittsburgh. But Molina returned to the lineup two days later, in Washington.
Molina is putting up career-high offensive numbers: .322 with 17 homers and 62 RBIs. His average ranks fourth in the National League, trailing suspended leader Melky Cabrera (.346), Pittsburgh's Andrew McCutchen (.344) and San Francisco's Buster Posey (.329) and leading No. 5 David Wright (.314).
• First baseman Allen Craig (92 games) and third baseman David Freese (117 games) already have logged career-high game totals, so their production in September bears watching.
Last series results
Mets won, 3-1, at Citi Field, June 1-4 (AP game recaps)
Mets 8, Cardinals 0: Johan Santana pitched the first no-hitter in team history, helped by an umpire's missed call and an outstanding catch in left field by Mike Baxter. More
Mets 5, Cardinals 0: R.A. Dickey (8-1) gave up seven hits, struck out nine and walked none in his third career shutout and first since 2010. David Wright homered. More
Mets 6, Cardinals 1: Jon Niese struck out a career-high 10 in six scoreless innings before he was pulled as a precaution with an elevated heart rate. Kirk Nieuwenhuis contributed a homer and three RBIs. More
Cardinals 5, Mets 4: Allen Craig hit a tiebreaking, two-run homer in the eighth inning against Jon Rauch. More