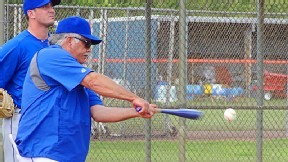 Adam Rubin
Wally Backman managed Triple-A Buffalo this season.
ALLENTOWN, Pa. -- Wally Backman is expected to join the Mets on Sunday, for the series finale at Citi Field against the Atlanta Braves. It will mark the second straight season in which Backman has joined the coaching staff for the final month.
Backman's Triple-A Buffalo squad completes its season this afternoon at Lehigh Valley. He then plans to return to Buffalo, drive his vehicle cross-country to Oregon and fly to New York to join the Mets.