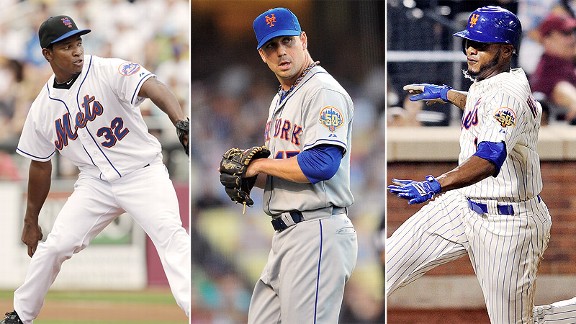 Associated Press/US Presswire
The final wave of call-ups from Buffalo includes (l to r) Jenrry Mejia, Justin Hampson and Jordany Valdespin.
With Triple-A Buffalo's season ending Monday afternoon, the Mets announced their intention to add six players Tuesday in St. Louis: right-handers Jenrry Mejia, Jeurys Familia and Elvin Ramirez, left-hander Justin Hampson, outfielder Fred Lewis and Jordany Valdespin.
With Matt Harvey capped at two to three more starts because of an innings limit, Mejia should see time in the rotation down the stretch.
Lewis, 31, is hitting .294 with 13 homers, 45 RBIs and 25 steals in 108 games with Buffalo. He played parts of six major league seasons with the San Francisco Giants, Toronto Blue Jays and Cincinnati Reds.
The Mets already had added corner infielder Zach Lutz, catcher Mike Nickeas and Collin McHugh.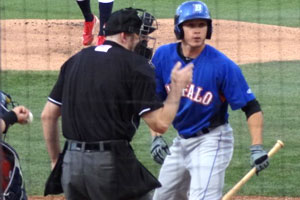 Adam Rubin
Matt den Dekker will not receive a promotion, but should debut in 2013.
The group bypassed for a promotion included Zack Wheeler, 39-year-old left-hander C.J. Nitkowski, outfielder/third baseman Matt Tuiasosopo and center fielder Matt den Dekker.
Tuiasosopo (.242, 12 HR, 57 RBIs) had a champion in Wally Backman.
Den Dekker does not need to be added to the 40-man roster this offseason for Rule 5 protection, since he was drafted in 2010. A strong defensive outfielder, den Dekker hit .340 during the first half at Double-A Binghamton, but struck out 90 times through 295 at-bats in Triple-A, so he needs improvement with his plate discipline.
"His play in the outfield is very, very good. He's an All-Star caliber center fielder," Backman said. "His power numbers are the same as they were last year. It seems like it takes him half a year to figure it out [at a higher level]. St. Lucie to Double-A, he only hit .235 last year. He leads the league this year in Double-A, hitting .340. So he figured that out. And he's hitting .220 now. But his outfield play is incredible. He's a speed guy."
Wheeler hit his innings limit for the season and should make his major league debut at some point in 2013.
The Mets, as expected, did not promote anyone directly from Binghamton. Wilmer Flores, already on the 40-man roster, would have been the primary consideration. He again will play second and third base in winter ball in his native Venezuela with Margarita.
Kirk Nieuwenhuis did not receive a call-up because he is out for the season with a partially torn plantar fascia in his right foot.