Carlos Beltran has struggled versus right-handed pitching since the All-Star Break.
Harvey and the record books
Matt Harvey has five starts in which he's allowed two runs or fewer in five innings or more. He's one of four Mets to have that sort of stretch within the first seven appearances of his career, along with Jim McAndrew, Ron Darling, Jason Jacome, and Masato Yoshii.
Matt Harvey - 2012 Season
Yoshii, McAndrew, and Jacome all managed to do six out of eight.
Harvey has 49 strikeouts through seven appearances. He's got a ways to go to break the mark for most through the first eight games of a career by a Met. Nolan Ryan's 64 lead that list, followed by Dwight Gooden's 59.
Harvey and good fortune
Harvey was fortunate to survive his last outing allowing only two runs. He gave up a career-high seven line drives and had a career-low miss rate (Phillies hitters missed on 14 percent of their swings).
Pitch to Watch: Slider
The pitch to watch would be Harvey's slider, which has been a putaway pitch for him. He had been getting misses on 39 percent of his swings, but got only one on 11 Phillies swings.
Harvey also gave up multiple hits on his curveball for the first time, yielding two on the 10 he threw.
How do you get Carlos Beltran out?
Beltran had the day off yesterday, but played a key role in the Cardinals win by spotting that Andres Torres missed first base on his ninth-inning double.
Carlos Beltran - 2012 vs RHP
Beltran has been in a slump of late. He's hitting .195 against right-handed pitching since the All-Star Break with one prime trouble spot-= down and away.
Beltran's heat map atop this article shows that vulnerability.
That's not an area Harvey attacks as often as most. He throws 46 percent of his pitches to lefties on the outer-third of the plate or further away, a bit below the major league average of 55 percent. He throws only 27 percent of his pitches to lefties to the lower-third of the plate or below, well below major-league average of 41 percent.
It will be interesting to see how Harvey approaches this matchup- whether he plays to his strengths or attacks his weaknesses.
How do you get Yadier Molina out?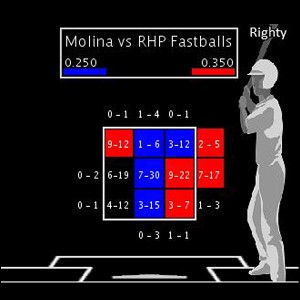 Even a nasty collision at home plate couldn't stop Yadier Molina, who has been the Cardinals top hitter since the All-Star Break with a .354 batting average and 18 RBI in 147 at-bats.
Short of relying on Mike Baxter to make no-hitter saving catches in left field what can Harvey do to stop him?
Mets right-handed pitchers have had success with Molina the last four seasons, when they've attacked him in the upper-third of the strike zone and above.
Molina is 3-for-17 over the last four seasons against Mets righties when the at-bat has ended with an upper-third-or-above pitch and 12-for-40 against everything else.
Logic would dictate that means that Harvey will try to use his high fastball. He'll have to be precise in his location. Molina has crushed fastballs up-and-away and middle-in this season.
Did you know?
Harvey, who has an opponents' batting average of .197, likely has two starts left. Only two Mets have made at least nine starts in a season and finished with an opponents' batting average below .200- Sid Fernandez four times and Nolan Ryan twice.
A closer look at Harvey's success
The heat map below shows Harvey vs left-handed hitters (.214 opp BA) and right-handed hitters (.176) in 2012.