Matt Harvey surrendered three runs in five innings and Jeurys Familia tossed a scoreless frame in his major league debut as the Mets lost to the St. Louis Cardinals, 5-1, Tuesday at Busch Stadium.
Now, R.A. Dickey bids for his 18th win as the Mets try to avoid a sweep in the series finale. Dickey opposes right-hander Adam Wainwright (13-11, 3.90) at 1:45 p.m. ET as the Mets complete a three-city trip.
Wednesday's news reports:
• David Wright tells Jon Heyman at CBSSports.com that he is "extremely optimistic" about reaching a long-term extension with the Mets this offseason.
Charles LeClaire/US Presswire
David Wright says he has "not a single complaint" as a Met.
"I've really enjoyed it here," Wright said. "... Although we haven't gotten things completely turned around, we've taken small steps in the right direction and have something to build on. ... There's not a single complaint that I have. [The Mets] drafted me as a kid. They developed me. They've given me an opportunity to make a living playing a game. There's a tremendous amount of mutual respect. They've gone above and beyond. ... My favorite player was Cal Ripken. The biggest reason for that was, I like that he stayed."
• Keith Hernandez tells Richard Sandomir in the Times that his intention is to report for color-commentary duty for the Oct. 3 season finale in Miami without his signature mustache. Writes Sandomir:
Hernandez's mustache faithfully accompanied him through nearly all of his baseball career, his guest appearances on "Seinfeld" and his singing duet with Mookie Wilson on "Put Down the Duckie" for Sesame Street. Still, he seems about to take it off, after a long season of letting it turn increasingly gray. The color has been fading longer than that but was artificially enhanced with Just for Men gel. He was, of course, a paid company endorser and a star, with Walt Frazier, of several kitschy TV commercials that suggested a better life through dyed facial hair.
In the first and most famous ad, Hernandez and Frazier played the bar-side analysts of a sad sack Mr. Graybeard being rejected by Miss Hottie. Their facial hair was blindingly dark. "No play for Mr. Gray," Frazier said, evoking his penchant for rhyming. In a commercial made in 2008 they confronted another Mr. Graybeard, Emmitt Smith. "Your beard is weird," Hernandez told the retired Dallas Cowboys running back. But Combe Inc., which makes Just for Men, ended the campaign early this year and replaced it with one that stars a tuxedoed baby.
• Familia's major league debut began by striking out Lance Berkman with a 97 mph fastball. He then surrendered a single to Jon Jay, but immediately erased him by coaxing a double-play grounder from Matt Carpenter. Fred Lewis, 31, also made his Mets debut. He opened the ninth by grounding out to shortstop against Trevor Rosenthal. Read more in the Star-Ledger, Newsday and Record.
• Read game recaps in the Post, Star-Ledger, Record, and Daily News.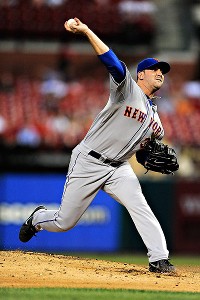 Jeff Curry/Getty Images
Matt Harvey has one or two more starts remaining in 2012.
• Collins said postgame it was not yet resolved whether Harvey would have one or two remaining starts. The five innings logged Tuesday give him 47 1/3 in the majors and 110 with Triple-A Buffalo this season. Read more in Newsday.
• Tim Byrdak is due to undergo surgery today to repair the torn anterior capsule in his left shoulder. That's the same surgery Johan Santana and Chris Young previously underwent. Team doctor David Altchek will perform the procedure. Byrdak's injury is career threatening, since he turns 39 next month. Byrdak also requires surgery to repair torn meniscus cartilage in his right knee. The other knee required that procedure during spring training.
• The Mets are offering free tickets to up to three children age 12 and under with the purchase of an adult ticket to any September home game. The team announcement:
For "The Kids Go Free" ticket offer available via phone at (718) 507-TIXX and in person at the Citi Field Box Office, fans buying one regularly priced ticket will get up to three complimentary kids tickets. For the ticket offer available online at Mets.com/KidsFree, fans may purchase a Family Four Pack that includes four tickets for the price of two. All tickets must be picked up at Citi Field the day of the game and children must be present. For more information, contact the Mets Ticket Office at (718) 507-TIXX.
• Brooklyn lost to Lowell, 9-1, Tuesday. The Cyclones must win their regular-season finale today, or have Batavia lose at least one game in its doubleheader, in order to claim the New York-Penn League wild card. St. Lucie lost its Florida State League playoff opener, 3-1, at Jupiter in a game interrupted three hours by rain. Read the full minor league recap here.
• Mike Pelfrey visited his teammates in St. Louis in part to participate in the players' fantasy football draft. Pelfrey, who underwent Tommy John surgery on May 1, is likely to be nontendered in December since he is eligible for arbitration and is making $5.6875 million this season. Players must make at least 80 percent of their previous year's salary if tendered a contract, and rarely receive a salary cut. Still, Collins said he would consider Pelfrey in a bullpen role (presumably if the Mets re-signed Pelfrey for a lower salary after making him a free agent). Read more in the Post, Newsday, Times and Record.
TRIVIA: Which active player has the second-most homers against the Mets, behind Chipper Jones?
Tuesday's answer: Technically, Mike Jorgensen preceded Tony La Russa as Cardinals manager. Jorgensen completed the 1995 season after Joe Torre was fired with a 20-27 record in his fifth season at the helm.