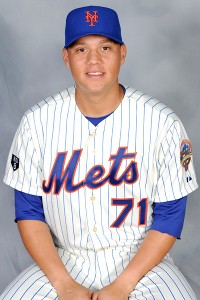 Courtesy of New York Mets
Wilmer Flores
The Mets will honor infielder Wilmer Flores and right-hander Rafael Montero as the Sterling organizational player and pitcher of the year in a ceremony before Saturday's game against the Atlanta Braves at Citi Field.
A natural shortstop, the 21-year-old Flores played third base, second base and first base for the first time in the minors this season. He hit a combined .300 with 18 homers and 75 RBIs between St. Lucie and Binghamton.
Montero, 21, combined to go 11-5 with a 2.36 ERA between Savannah and St. Lucie. He struck out 110 and walked only 19 in 122 innings.
Also due to be on hand are the individual team winners:
RHP Matt Harvey, Buffalo
RHP Zack Wheeler, Binghamton
OF/2B Alonzo Harris Jr., St. Lucie
RHP Michael Fulmer , Savannah
RHP Hansel Robles, Brooklyn
RHP Miller Diaz, Kingsport
RHP Yoryi Nuez, Dominican Summer League 1
OF Vincente Lupo, Dominican Summer League 2