After a day off, the Mets open a six-game homestand Friday night. Chipper Jones visits Queens for the final time as a player this weekend. Jon Niese (10-8, 3.55 ERA) opposes Atlanta Braves left-hander Paul Maholm (11-9, 3.79) in Friday's 7 p.m. series opener.
Read the series preview here.
Friday's news reports:
• The Mets have decided to wear first-responder caps pregame but not in-game on Tuesday, on the 11th anniversary of the Sept. 11 attacks. A team spokesman said the decision was made by the team and not Major League Baseball. MLB would not allow the in-game usage last year. Read more in the Times, Newsday and Daily News.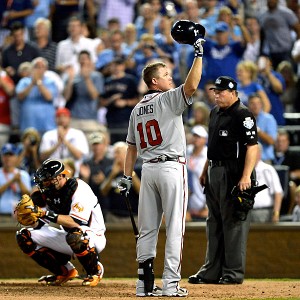 David Eulit/Getty Images
Chipper Jones has been saluted at each stop on his farewell tour, including in Kansas City for the All-Star Game.
• What to expect this weekend for Chipper's final visit? Well, it's not exactly like Citi Field will be packed. But the retiring third baseman figures to hear a couple of "LAR-reee" chants. Writes Steve Hummer in the Atlanta Journal-Constitution:
Of all the road stops along this season's Farewell Chipper Tour, the three-day series that begins tonight at Citi Field figures to be the most emotionally confusing. Before departing, Jones didn't know quite what to expect from a crowd grown used to derisively chanting his given name -- "LAR-reee, LAR-reee, LAR-reee" -- while watching him dismantle the home team. "Trust me, if I was a New York fan I don't know how I'd feel," he said. "There would be a certain part of me that would appreciate the realm of the career. But man, that's a lot of heartache [through the years]." ...
Yet, Jones did so love the vibe there that he named one of his four sons Shea. The tenor of the name just pleased his ear. "A great name," he said. "Hey, my dad named me Larry. C'mon, give a kid something to work with." ...
There is reason to suspect New Yorkers will be kind to Jones as they wish him goodbye, giving him at least a grudging respect, along with an as-yet unknown parting gift. Jones has sensed an easing in relations. "For the first 10 years I was in the league, I never left my hotel room in New York," he said. "I went from the room to the bus to the park to the bus and back. Now, I can walk down the street and everybody's great. Those who recognize me, they're great. I get messages on Twitter from Mets fans all over saying: 'I admire what you've done;' 'You've been a great player for a long time;' 'You killed my Mets and I hate you for it, but I respect the player and the person that you've become.' That for me is an ultimate compliment."
Read more in the Post and Times.
• Andy McCullough in the Star-Ledger notes Niese could be a valuable trade piece for the Mets this winter since the club is most deep in starting pitching and a stagnant payroll means the Mets may need to deal an established player such as the southpaw for multiple prospects in order to improve. Writes McCullough:
Baseball officials outside the organization believe Niese could elicit a quality return on the trade market. "People would be interested in [Niese] because he's a starter who some people see as a No. 3," one executive said. "Some people see him a little bit like where they saw Gio Gonzalez last year." ... [Sandy] Alderson can look to his protégé, Oakland general manager Billy Beane, for a blueprint. A survey of competing executives indicated Niese's value is comparable to Gonzalez and Trevor Cahill, the two starting pitchers the Athletics traded last winter. The executives requested anonymity in order to speak freely about the situation. "You're looking at about two or three prospects [for Niese]," one executive said. "At least."
• Tim Byrdak pronounced Wednesday's surgery to repair a torn anterior capsule in his left shoulder as well as torn meniscus cartilage in his right knee a success. Byrdak hopes to return to the majors, but the shoulder surgery requires roughly a 12-month recovery time.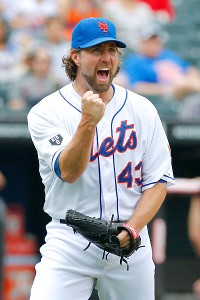 Paul J. Bereswill/Associated Press
R.A. Dickey has an agreement to write three children's books.
• R.A. Dickey will author three children's books.
• Phil Niekro and Tim Wakefield endorsed Dickey's Cy Young candidacy to Andy Martino in the Daily News.
"I can tell you that every knuckleballer is rooting for him," Niekro said.
Said Wakefield: "He is doing our fraternity proud in proving to people that it is not a trick pitch. ... It would put a stamp of legitimacy on the pitch, and that is one thing that R.A. wants to do."
• Dickey also received an endorsement on the New York Times' editorial page.
• Tickets remain available for Ike Davis' charity event on Sunday night at City Winery in Manhattan. Country music performer Lee Brice is scheduled to perform. For more information, click here.
• St. Lucie was eliminated in the first round of the Florida State League playoffs, 11-7 by Jupiter in a winner-take-all Game 3 on Thursday night. Starter Chase Huchingson, who is scheduled to participate in the Arizona Fall League, surrendered six runs in 3 1/3 innings. St. Lucie rallied from a 6-1 deficit, evening the score with a five-run fifth, capped by a two-run double from Richard Lucas. The Mets surrendered the lead the following half-inning. "It was a great inning," St. Lucie manager Ryan Ellis told Bill Whitehead at TCPalm.com about the five-run fifth."We put some key hits together, just were unfortunate not to go ahead or have a shutdown inning in the next inning. My guys battled like they did all year. It's good to see. I thought we had the team to win a championship, but we fell short of our goal."
The lone remaining Mets affiliate participating in the postseason is Brooklyn, which opens a best-of-three first-round series tonight at Coney Island against Hudson Valley. Read the Florida State League game recap here.
• Dillon Gee, who has resumed throwing after surgery to repair a damaged artery in his pitching shoulder, indicates he is feeling good. "I feel fine," Gee told Mike Kerwick in the Record. "I played catch [Tuesday]. My arm felt great. Obviously, my release point is a little off and stuff. I had 2½ months without throwing a baseball, so that's to be expected. Arm-wise, I feel great. Body-wise, I feel great. I'm really just looking forward to continue throwing this month and then going into the offseason with a clean slate and prepare like it's any other year."
• With Jeurys Familia striking out Lance Berkman to begin the right-hander's major league career in St. Louis, Mark Herrmann in Newsday asked other Mets to recall their debuts. "Sunday night baseball at Yankee Stadium," Kelly Shoppach told Herrmann about a May 29, 2005 game with the Boston Red Sox, which actually was his first start, but not his debut. "Jeter led off the bottom of the first with a homer and Sheffield hit a homer two batters later. I remember thinking to myself, 'Man, I am not doing a very good job of calling a game here.' I remember the magnitude of the moment for me, and how deafening the old Yankee Stadium was."
TRIVIA: Against which opponent does Chipper have his most RBIs?
Thursday's answer: Davis did not hit any homers while playing 58 games for the Brooklyn Cyclones in 2008, after being drafted that June in the first round.