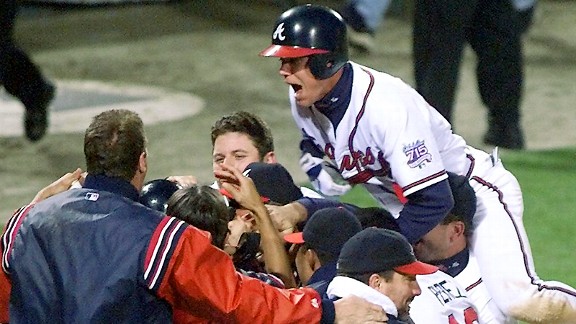 Getty Images/Robert Sullivan
Chipper Jones (atop 1999 NLCS celebratory pile) has had quite a bit of fun at the Mets' expense.A colleague of mine told a story recently about dealing with someone who had irked him at an inopportune time, and the punchline to the story was to let the person know, "Haven't you done enough?"
I'm going to borrow that question and apply it to Chipper Jones and his visit to Citi Field this weekend.
Jones has been the beneficiary of a retirement tour in his final major-league season, honored in each ballpark in which he was playing a regular-season game for the last time.
This creates what I think is a bit of an awkward situation. Jones will likely play in his final regular-season game against the Mets on Sunday.
In the 51-season history of the Mets, there has arguably been no greater villain than Jones. It started with his very first home run -- a game-winner against Josias Manzanillo -- and gained steam as the Braves won division title after division title, as the Mets got good again.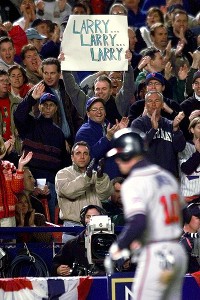 AP Photo/Mark Lennihan
Perhaps a more appropriate farewell salute?
It reached its peak in Sept. 1999, when in what amounted to a three-game showdown for the NL East title, Jones single-handedly beat the Mets by going 4-for-7 with four go-ahead home runs.
Jones enters this series with 40 go-ahead hits against the Mets, matching Hall of Famer Willie Stargell for the most against them.
Jones has gotten the best of the Mets in just about every single season, save for 2000 and 2006. Admittedly, he's done so fair and square -- poking fun at them along the way, by naming his son Shea and buying a seat from the demolished ballpark as a keepsake.
He's been a good villain, if there is such a thing, and he's handled it well.
But it does feel a bit weird that the Mets are probably going to honor him in some fashion, and that a crowd that didn't even acknowledge Mike Baxter's first at-bat upon returning from preserving Johan Santana's no-hitter is going to cheer him?
Maybe it seems a bit dopey to say this, but wouldn't a more fitting tribute be to serenade him a few times with a "LARRY!" chant, and perhaps a sitting ovation from what will likely be a three-quarters-empty ballpark on an NFL Sunday?
If you're thinking that the Mets or the fans should do anything more, ask yourself this question: Haven't they done enough?
How do you feel the Mets and their fans should "honor" Chipper Jones this weekend?
Share your thoughts in the comments section.