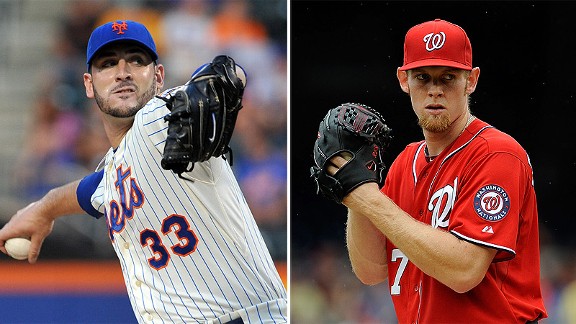 Getty Images
The season finale for Stephen Strasburg will take place Wednesday at Citi Field -- opposite Matt Harvey.
Matt Harvey's next 2012 start will come Wednesday opposite Stephen Strasburg. It will be Strasburg's final 2012 start. It will not be the final one for Harvey, who will get one additional start, Terry Collins said.
Both organizations have decided to shut down their young pitchers before the season's end because of innings limits.
Harvey has logged a combined 157 1/3 innings between Triple-A Buffalo and the majors this season -- not counting his International League All-Star appearance. He logged 135 2/3 innings last season in the minors.
Harvey's previous start came Tuesday in St. Louis. The Mets have resolved to have R.A. Dickey pitch every fifth game, though, so Dickey is jumping in front of Harvey in the rotation. Add in a team off-day and a six-man rotation and Harvey has more than a week between starts.