After being blanked by the Atlanta Braves, 3-0, on Friday night, the Mets have now posted three runs or fewer in eight straight home games. That's the longest streak since back in 2003 at Shea Stadium, and three shy of matching the franchise record, set in 1966 and repeated in 1979.
The Mets mustered only five hits -- all singles -- and five walks against Paul Maholm and five Braves relievers.
The issue with the lack of hitting?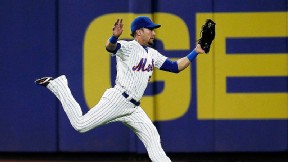 Jeff Zelevansky/Getty Images
Andres Torres raced into right-center to snare Martin Prado's liner, but twisted his left knee on the play and departed the game.
"There's been lots of things," Terry Collins said. "I don't know if you can narrow it down to one thing. The thing that we did so well was when we got guys on, we got two-out hits. We're not getting many hits at all, and especially none with two outs. We get a lot of singles. The extra-base stuff we haven't had a lot of. We just haven't been able to come up with a big hit, especially here at home."
• Andres Torres said that while his right knee buckled on a second-inning catch in right-center, it was his left knee that actually twisted. He minimized the severity of the injury that forced him from the game.
"I kind of lost balance because I tried to reach, and then I just hit the right knee and the other one twisted," Torres said.
• Collins confirmed Jenrry Mejia will start soon, about the time Matt Harvey is shut down for the season, but not precisely coinciding with it. Mejia made his first major league appearance in two years on Friday night.
"They wanted me to throw a couple of innings from the bullpen today, maybe get ready for a start," said Mejia, who left a curveball up to Dan Uggla, who delivered a solo homer. "I don't know when. But, if that comes, I'll be ready for it."
• Jon Niese expressed satisfaction with his stamina at this point of the season, as opposed to previous years. He allowed only one run in six innings.
He has now completed six innings while walking two or fewer batters in 17 straight starts, extending his franchise record. Pedro Martinez previously held the record, with a 12-start streak in 2005.
"I'm real happy with how my body feels right now, especially this late in the year, and with the weather the way it was today," Niese said. "It was pretty hot out there."