Jeremy Hefner was knocked out in third inning and the Atlanta Braves, after a 75-minute rain delay, ultimately completed an 11-3 win against the Mets on Saturday afternoon at Citi Field.
The Mets have lost nine of their past 10 games to the Braves. Chris Young (4-7, 4.48 ERA) looks to reverse that trend Sunday when he opposes right-hander Tommy Hanson (12-7, 4.45) at 1:10 p.m.
Wally Backman, who managed Triple-A Buffalo, is due to join the Mets for the remainder of the season as an extra coach beginning today.
The game will be the last for Chipper Jones as a player in Flushing. Jones has been quiet so far in his final road series against the Mets. He went 0-for-3 with a walk Saturday and is hitless in seven at-bats this weekend. The Mets will see Jones once more, though. The Braves' final home series of the season is in three weeks -- and happens to be against the Mets. So the Amazin's will be on hand for the Turner Field sendoff for Chipper before their Sept. 28 game.
Sunday's news reports:
• Read game recaps in the Times, Star-Ledger, Newsday and Daily News.
• Marc Carig in Newsday recaps Chipper's Met-killing days. Writes Carig: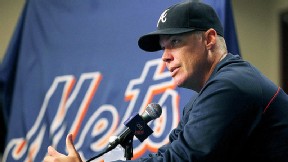 Brad Penner/US Presswire
Chipper Jones plays his final game in Queens this afternoon.
Unlike [John] Rocker, Jones sustained his success, ultimately sticking around long enough to watch the hatred of Mets fans mellow into more of a grudging respect. "Because he was good," [Al] Leiter said. "And he's got a little bit of that funny side, that old- school 'hey, I'm going to have a good time,' because he liked to have fun." Of course, not all fans have been as forgiving. When Jones was shown on the video board before Friday night's game, the crowd at Citi Field offered a mixed response. As evidenced by the boos, some will never forget when Jones became a Mets-killer.
Roger Rubin in the Daily News also notes Mets fans have mellowed toward Jones. Writes Rubin:
For most of the last 15 years, he has been greeted with derisive chants of his first name: "Lar-ry! Lar-ry!" But after 19 years of a first-ballot Hall-of-Fame career the 40-year-old Jones is going to retire, even as he is assembling another excellent season. And like a pair of fighters who traded painful jabs for 15 rounds, he and Mets fans should share a respectful embrace now that the battle is over. "It's definitely gotten less volatile and more lenient," Jones said. "They are Mets fans and they are always trying to take you out of your game. I get it. There's clever and there's raunchy, and they give me a little bit of both . . . but there's been a mellowing of the attitude toward me."
As for the "Larry" nickname, Rubin adds:
Jones admires Mets fans for coming up with it and called it "smart" and "clever." He actually bristles when it greets him at other ballparks. "They're posers. It started here. That's what I always say to people outside New York: 'get your own nickname. That started somewhere else. It's not even yours,'" Jones said. "The Mets fans should have a patent on it. ... Mets fans can be trend-setters. "If some guy walks up and calls me Larry in the streets in Cincinnati, I'm more liable to fuzz up at that because he doesn't even know me well enough to call me Larry. When we're here, it's expected. It's funny."
• Game 2 of the Brooklyn Cyclones' New York-Penn League series was rained out at Hudson Valley on Saturday.
• Terry Collins said he had no hesitation using Jeurys Familia after a 75-minute rain delay, even though the rookie had warmed and taken the mound for the top of the seventh before the game was halted.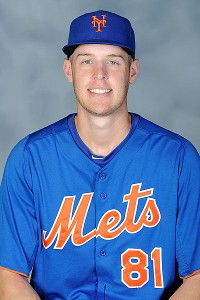 Courtesy of New York Mets
Zack Wheeler acknowledges starting 2013 in the Mets' rotation is a "long shot."
• Jenrry Mejia is tentatively scheduled to make his first major league start in two years on Sept. 19 against the Philadelphia Phillies at Citi Field. Collins hopes to get Familia a start late in the month, too. But, the manager said, he may just have Mejia and Familia log five and four innings in the same game -- or have one of the those young right-handers and Young share a late-season game in that fashion. Read more in the Record and Newsday.
• The Mets honored infielder Wilmer Flores and right-hander Rafael Montero as the organization's minor league player and pitcher of the year in a pregame ceremony Saturday. Zack Wheeler also was on hand, as the top performer for Double-A Binghamton. Wheeler acknowledged he is a "long shot" to make the rotation out of spring training next year, but he nonetheless said that will be his objective in camp. Read more in Newsday, the Post, Daily News and Star-Ledger.
• The Mets will allow fans who had tickets for Saturday's rain-interrupted game to exchange them -- used or unused -- for complimentary tickets to Monday's game against the Washington Nationals. For redemption details, click here.
• Ike Davis will host a charity event tonight in Manhattan to raise funds to combat childhood cancer. For more information about "A Night with Ike Davis," visit Davis' Facebook page, https://www.facebook.com/LikeIkeDavis. To purchase tickets to the event visit www.solvingkidscancer.org or call 212-588-6624.
• Dillon Gee said he hopes to get on a mound by the time the season ends. He began throwing on flat ground last week while the Mets were in St. Louis. Gee said it is not guaranteed he will step on the mound, though. He plans to shut things down like he would for a normal offseason once the Mets play their season finale. Gee is returning from surgery to repair a damaged artery in his pitching shoulder. The doctor who performed his surgery in St. Louis happens to have Cardinals season tickets, so Gee got him a field pass, which afforded the surgeon an up-close -- and unplanned -- look at Gee's first throwing session last week.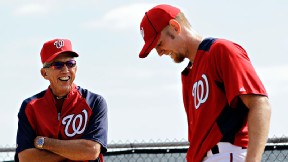 Julio Cortez/Associated Press
Stephen Strasburg is not thrilled with Davey Johnson's decision to pull the plug on his season before facing the Mets on Wednesday.
• Stephen Strasburg is not thrilled that Nationals manager Davey Johnson decided to shut him down, rather than allow him to make the final start he had been scheduled to pitch on Wednesday at Citi Field opposite Matt Harvey.
"I don't know if I'm ever going to accept it, to be honest," Strasburg told Adam Kilgore in The Washington Post. "It's something that I'm not happy about at all. That's not why I play the game. I play the game to be a good teammate and win. You don't grow up dreaming about playing in the big leagues to get shut down when the games start to matter. It's going to be a tough one to swallow. All I can do is be the best teammate possible for these guys. I think everybody overlooks all the great contributions that we've had this year. I know they're going to keep going that way, and I'm going to do everything in my power to support them."
• David Lennon in Newsday believes the changes in Citi Field's dimensions to make the ballpark more neutral will prompt alterations to other ballparks, including San Diego's Petco Park, which actually had one modest reduction in size under Sandy Alderson.
TRIVIA: What is Larry "Chipper" Jones' actual middle name?
Saturday's answer: Fredi Gonzalez managed the Marlins from 2007 through the first 70 games of the 2010 season before returning to the Atlanta Braves.