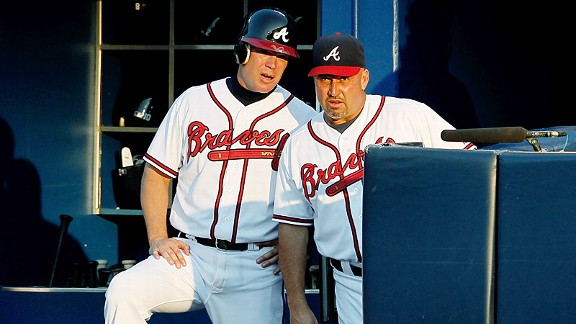 Kevin C. Cox/Getty Images
Manager Fredi Gonzalez said it was his call to sit Chipper Jones on Sunday.
Atlanta Braves manager Fredi Gonzalez indicated it was his call not to start Chipper Jones in the icon's final game as a player in Flushing.
#10 3B
Atlanta Braves
2012 STATS
GM

93

HR14

RBI59

R50

OBP.376

AVG

.297
Gonzalez said Jones has played some day games this season after evening contests, so it wasn't that there's an absolute rule about sitting matinees. Gonzalez simply wants to ensure the 40-year-old Jones remains as healthy as possible as the Braves continue their playoff push, so he opted to sit the third baseman Sunday.
Jones is 0-for-7 with a walk through two games of the series.
Atlanta enters the day in the first wild-card spot at 80-60. St. Louis currently has the second wild-card position at 74-65. The Dodgers are next at 74-66 -- so the Braves have a six-game lead for a playoff spot.
Jones happens to be 6-for-10 with a double, two homers and two walks in his career against Mets starter Chris Young.
"Just the body a little bit," Gonzalez said about the rationale for sitting Jones. "Talking to him this morning, I think he wanted to go. He said he could go. But we've got a plan. And, so far, the plan has worked -- kind of kept him healthy, kept him in the lineup. And we don't want to push it."
Gonzalez added that he would not look for a pinch-hitting opportunity for nostalgia's sake -- only if it made sense to win the game.
"Not necessarily rolling him out there for the fans -- if there's a chance he can make a contribution and try to win the ballgame," the manager said. "I mean, he's available. But 40 years old and the knees and the body, we try to keep him healthy, keep him in the lineup for the long term."