WHAT IT MEANS: Chipper Jones' final visit to Flushing as a player is in the books. It ended with a standing ovation, then a Braves sweep.
Brian McCann's bases-loaded sacrifice fly in the 10th against Bobby Parnell scored the decisive run as Atlanta won, 3-2, Sunday afternoon at Citi Field.
The Braves have won 10 of the past 11 games against the Mets. The Mets failed to exceed three runs for the 10th straight home game, within one of matching the franchise record, set in 1966 and repeated in 1979.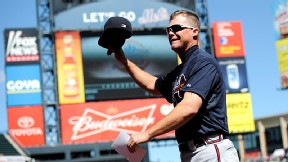 Kathy Kmonicek/Associated Press
Chipper Jones acknowledges the crowd after taking out the lineup card pregame Sunday.
Jones brought out the lineup card pregame and received a warm ovation. He then pinch hit with one out in the ninth inning with the score tied at 2 and received a standing ovation -- with a smattering of boos -- as he entered the batter's box. Frank Francisco proceeded to walk Jones on four pitches. Braves manager Fredi Gonzalez immediately replaced Jones with pinch runner Reed Johnson. Jones again received a standing ovation and lifted his helmet as he approached the visitors' dugout. He went 0-for-7 with two walks in the series.
Chipper's career damage in New York: only .190 (16-for-84) with three homers at four-year-old Citi Field, a far cry from his Shea Stadium numbers: .313, 19 homers and 55 RBIs in 323 at-bats.
Johnson, meanwhile, advanced to second base on a wild pitch from Francisco and to third on Eric Hinske's groundout to first base in the ninth. With two outs, however, Michael Bourn fouled off six pitches before ultimately striking out to strand the potential go-ahead run at third base.
UNHAPPY RECAP: After Tommy Hanson retired the first 10 Mets, Daniel Murphy ended the perfection with a double. The Mets took a 1-0 lead later in the fourth when Murphy scored from second base on an Ike Davis grounder that Dan Uggla dived to his left dove and smothered for an infield single. Davis produced his 78th RBI.
Bourn's single against Chris Young a half-inning later plated Jose Constanza and evened the score at 1. Young proceeded to walk two more in the frame to load the bases with two out, but the right-hander retired Uggla on an inning-ending grounder to third base.
McCann's leadoff homer in the sixth against Young staked the Braves to a 2-1 lead. But the Mets answered in the bottom half as Murphy and David Wright produced consecutive two-out doubles. Wright now has a team-leading 80 RBIs, narrowly ahead of the fast-closing Davis.
Wright also now has 1,405 career hits -- 13 shy of matching Ed Kranepool's franchise record.
Wright did ground out against left-hander Eric O'Flaherty to strand runners on the corners in the eighth and keep the score tied at 2. He also stranded runners on the corners to end the game.
WHAT'S NEXT: The Mets welcome the first-place Washington Nationals to Citi Field for a three-game series. Collin McHugh (0-1, 3.27 ERA) opposes left-hander Gio Gonzalez (18-7, 2.98) in Monday's 7:10 p.m. series opener. Gonzalez and R.A. Dickey, who pitches Tuesday, are tied for the major league lead in wins.