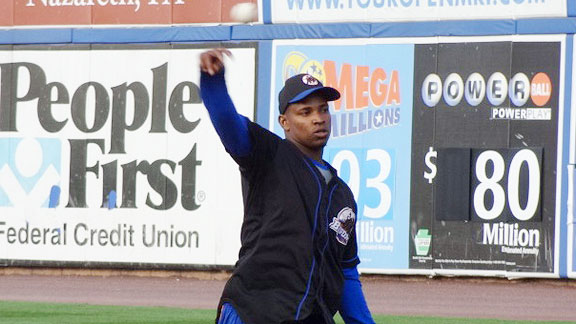 Adam Rubin
Jenrry Mejia is now due to make his first major league start in exactly two years on Saturday.Jenrry Mejia's first major league start in two years will come Saturday at Milwaukee -- on the two-year anniversary of his last major league start. It will come a turn earlier than previously planned.
Mejia will take the rotation spot of Jeremy Hefner, who will be reassigned to the bullpen.
#32 RP
New York Mets
2012 STATS
Terry Collins cited the rookie Hefner having logged 140 innings this season as a motivation for moving him to a relief role, although Hefner did log 157 1/3 innings last season in Triple-A with the San Diego Padres. So clearly the move was primarily fueled to create a spot for Mejia to get September starts.
Mejia last started a major league game on Sept. 15, 2010 -- before Tommy John surgery. Although he projects as a reliever in the majors, Mejia had a 2.75 ERA in 10 starts and a 5.48 ERA in 16 relief appearances with Triple-A Buffalo this season. He has made one relief appearance in the majors since his September call-up -- surrendering a solo homer to Dan Uggla but no other damage in two innings against the Atlanta Braves.
Collin McHugh will remain a member of the six-man rotation, despite allowing five runs -- including three homers -- in four innings in Monday's 5-1 loss to the Washington Nationals, according to Collins.
McHugh is not on a tight innings limit because he logged 156 1/3 innings in 2011 when Arizona Fall League work is included. McHugh is now up to 163 1/3 innings this year. Jumps of 30 innings are widely considered acceptable.
Asked how he feels this time of year given his workload, McHugh said: "I feel like it's September, but it's no excuse. There are a lot of guys in the clubhouse who are in the exact same position, with more innings than I have."
As for McHugh's performance Monday night, Collins said: "You saw, he was behind in the count. Collin McHugh got here because he has great command of his stuff, throws all his pitches for strikes. And he fell behind tonight. And when you fall behind against these guys, they're going to do damage to you. What he have -- 75 pitches in four innings? That's just not him. He's usually into the seventh inning with 75 pitches."