Why is Jason Bay starting against a right-hander for the first time in nearly a month on Tuesday night?
Terry Collins said he owed it to R.A. Dickey to maximize the fielding quality behind him as the knuckleballer pursues the Cy Young Award. After polling his staff, Collins added, the manager resolved that Bay in left field represented the Mets' best option over Lucas Duda or another choice.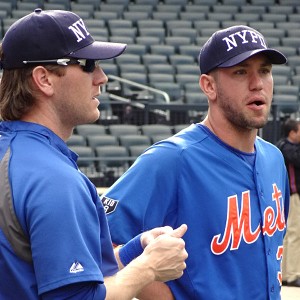 Adam Rubin
Jason Bay and Josh Thole wear NYPD caps during batting practice Tuesday.
Of course, that begs the question: Is Bay the Mets' best offensive choice? After all, the Amazin's have scored three runs or fewer in 11 straight home games, matching the franchise record.
• The Mets wore first-responder caps during batting practice Tuesday. They also plan to wear them during the national anthem, but not in-game.
A team spokesman reiterated the Mets did not ask for permission from MLB to wear the hats during the game. Why? The official only said the Mets do plenty of charitable things.
MLB did not grant permission for in-game wearing of the first-responder caps last Sept. 11, and the Mets complied.
The Mets also will wear the first-responder caps as well as T-shirts honoring New York City agencies on the trip from Milwaukee back home Sunday.
• Jeurys Familia will get his first major league start the final week of the season, according to Collins. Jenrry Mejia should get three starts in the rotation before the season ends, beginning Saturday in Milwaukee. Jeremy Hefner also will reenter the rotation down the stretch, with Matt Harvey due to be shut down after two more starts.
Collins intimated that he projects Familia as a reliever, noting starters typically have three serviceable pitches, and Familia does not have a third. Still, Collins noted, the sink on Familia's two-seam fastball can be nasty, if only he can maintain it for a full start. The manager likened it to the bite former All-Star Kevin Brown had with a 96 mph sinker. Brown's pitch had so much bite it resembled a breaking ball, according to Collins.