R.A. Dickey became the first Mets pitcher to reach 200 innings in consecutive seasons since Tom Glavine in 2004 and '05, but the knuckleballer remained at 18 wins with Tuesday's 5-3 loss to the Washington Nationals.
"I had a mediocre knuckleball and had to pitch with it," said Dickey, who was charged with the loss despite limiting the Nats to three runs in seven innings. "I had a good enough one to get some double plays."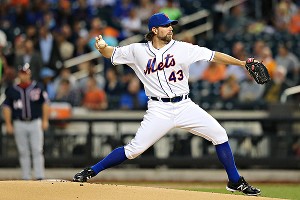 Anthony Gruppuso/US Presswire
R.A. Dickey remained at 18 wins with Tuesday's loss to the Nationals.Dickey said he felt a different electricity at Citi Field on Tuesday compared with other recent games despite the sparse crowd, presumably because of his run at the first 20-win season by a Met since Frank Viola in 1990.
"It may or may not have been because I was pitching, but I certainly recognize that and want to say thank you for that," Dickey said.
As for the Nats' lineup, the knuckleballer added: "This is the best lineup that I've faced. They're just so functional. They've got guys that can run. They've got great energy. They have old guys that have good approaches. They have young guys that go first to third on you. They've got power. Every one of them can hit a home run, just about. There's not really a lot of breathing room, and you know that. Not to mention that they've got great pitching. They've got a good team on the whole.
"I knew that I was going to have to work hard to keep them at bay. It's not the worst outing to give up three runs in seven innings against that club, but at the same time you know your margin for error is probably very minute."
Terry Collins said he did not regret pinch-hitting for Dickey with Jordany Valdespin to open the bottom of the seventh, a half-inning after Washington grabbed a 3-2 lead on pinch hitter Tyler Moore's two-run homer.
"We're trying to win games, to be honest," Collins said. "And I know (Dickey)'s a big factor. You don't know when you're going to break out of it and when you're going to score. We just had to try to get some runs there, see if we could even tie it. Yeah, we could have left him out there, but we're not here to abuse anybody either."