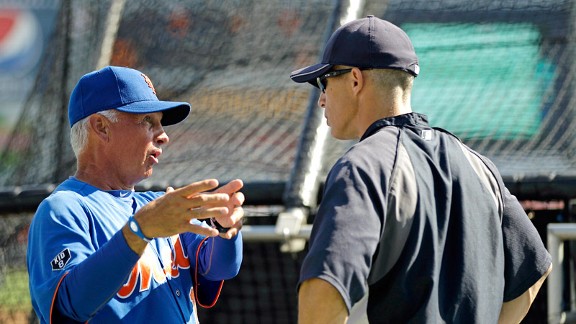 Kathy Willens/Associated Press
Terry Collins and Joe Girardi won't see each other as frequently in 2013.
The Mets and Yankees, who annually have played six games a season since 1999, have a new format beginning next season.
The teams only will meet four times -- two times apiece in each ballpark. The 2013 games will occur consecutively, on May 27 (Memorial Day) and 28 at Citi Field, then May 29 and 30 in the Bronx.
MLB's new schedule tries to make the difficulty for all division opponents comparable. While the Mets maintain the four games with their natural rival -- the Yankees -- they otherwise exclusively play the American League Central, trying to make it equitable with the other National League East teams, who also line up for that division.
When the Mets play the Yankees, the Phillies will play their natural rivals, the Red Sox. The Braves will face the Blue Jays. The Marlins will face the Rays. And the Nationals will face the Orioles.
The Mets and Yankees likely will play six games a season in the years the AL East and NL East line up for interleague play.
Subway Series games are typically the best attended, so the reduction of one home game against the Yankees seems to hurt the Mets at the box office. The Mets averaged 41,559 fans per game at Citi Field this season for the three-games against the Yankees.
For the Mets' full schedule, click here.