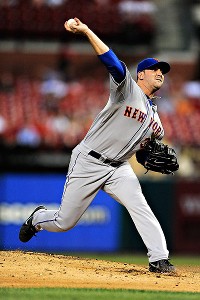 Jeff Curry/Getty Images
Matt Harvey's final 2012 start is planned for next Tuesday, against the Phillies at Citi Field. He faces the Nats tonight.
Terry Collins reiterated before Matt Harvey faced the Washington Nationals on Wednesday night that the rookie will get one additional start beyond tonight's outing before being shut down for the season.
Harvey is at 158 1/3 regular-season innings between the majors and minors, already a jump of 22 2/3 innings from last season.
Harvey's final start is planned for next Tuesday, against the Philadelphia Phillies at Citi Field.
"I don't think there's any more that I need to see," Collins said. "There's always room for improvement, as we know. You'd really like to see him have great command of his curveball -- locate it wherever he wants to. But he has shown us so much on the mental side, his determination to be great, his approach to being great, his competitiveness. I know you guys, when you talk to him, you can probably feel it and see it a little bit, but during the game, he competes."
Collins also noted he cannot fathom Harvey being left out of next season's Opening Day rotation. "I've got a tough time thinking that there's a way he's not going to be in it," Collins said.