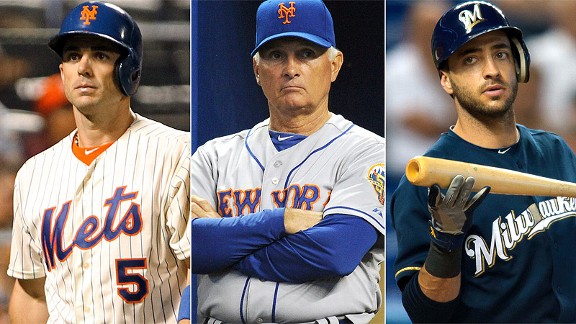 US Presswire
David Wright and Terry Collins spoke with Ryan Braun at the All-Star Game, trying to smooth over the teams' May incident.
Back on May 15, Terry Collins pulled David Wright and Daniel Murphy the half-inning after D.J. Carrasco was ejected for plunking Ryan Braun, because the manager did not want his marquee players targeted for retribution in the 8-0 loss to the Milwaukee Brewers.
That was the finale of a two-game series. The teams meet for the first time since then this weekend at Miller Park.
So how long a memory do the Brewers have?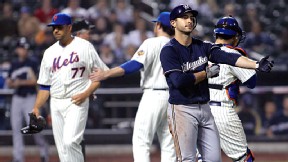 Mike Stobe/Getty Images
Ryan Braun reacts to getting plunked as D.J. Carrasco walks off the mound after being ejected on May 15.
That remains to be seen. But Collins believes there will be no retaliation. Collins and Wright sought out Braun during the All-Star Game in Kansas City to try to smooth things over and came away satisfied the matter was resolved. Carrasco was dumped two days after the incident.
"I wanted him to know that it was not intentional what happened," Collins told ESPNNewYork.com about the All-Star Game conversation with Braun. "Ryan said he certainly understood why I took David out."
Wright had vehemently argued in the dugout with Collins after being removed from that game. He wanted at the time to accept being hit so that the matter did not linger.
If you recall, after the infamous Mike Piazza-Roger Clemens incidents in 2000, the Mets finally got the Rocket in the batter's box at Shea Stadium a full two season later. And Shawn Estes, who wasn't even on the Mets when the original incidents occurred, was asked to hit Clemens. He missed.
Collins, upset that Carrasco had plunked Braun because it might lead to retaliation, confronted the reliever about the incident. Carrasco swore to his manager he missed his spot. The catcher, though, had set up on the opposite side of the plate. So Collins told Carrasco that the reliever wasn't prepared to be in the majors if he missed spots by that much.
Wright on Wednesday said he had no interest in discussing the May incident and potentially inflaming things.
"It's up to them, but I'm not going to give life to something that happened months ago," Wright said.