Matt Harvey takes losses hard, even when his line reads that he surrendered only one run in five-plus innings.
Harvey, who has one start remaining in 2012, noted he needs to be more efficient with his pitches. In Wednesday's 2-0 loss to the Washington Nationals, Harvey was pulled with his pitch count at 106, the bases loaded and none out in the sixth.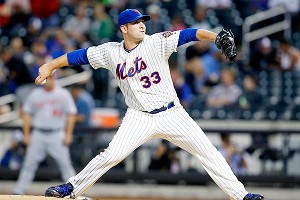 Jeff Zelevansky/Getty Images
Matt Harvey struck out 10 in five-plus innings Wednesday against the Nats."The biggest thing is going deeper into games and figuring it out a lot sooner, and not pressing to go for the strikeout all the time," said Harvey, who fanned 10 Nats. "I have to get early contact, like I've said before. That's the biggest thing I'm going to work on."
Harvey said using all his pitches should help get balls put in play and limit his pitch count.
"My curveball was not very good. I think I threw one for a strike," Harvey said. "It's not acceptable. My slider was flat. The changeup was probably my best pitch. There's a few I let go that were up in the zone, but for the most part it was down and I was able to throw it pretty consistently."
Terry Collins said Wally Backman, who has joined the major league coaching staff for September after managing Triple-A Buffalo this season, marveled at how Harvey looks like a different pitcher than before the rookie's promotion.
"This guy has taken the game to another level when he got up here," Collins said. "You're standing in the dugout next to Wally, who saw him more than I did all year. When Wally says, 'I never saw that. I never saw kind of stuff,' it tells you how he can raise his game.
"Now, hopefully, the one thing that he will get out of it, just like tonight, when you get 10 or 11 strikeouts, your pitch count is going to get up there. We need to hopefully get him to where he can get some easy outs without having to overthrow and pump 97 mph fastballs in there -- get some groundballs with 92s and then save it for when he needs it.
"But, I'll tell you, he's been so impressive. We've got something special. We've got something really special."
Said Nats third baseman Ryan Zimmerman: "That kid's going to be really good, one of those big, power pitchers -- once he figures out how to throw some of his other stuff for strikes a little bit more. But that's a good fastball. He mixes it up with a little cutter. It didn't look like he had a real good feel for his curveball, so you could kind of eliminate that pitch. But if he can kind of get a grip on that curveball, he mixes in his changeup to righties every now and then, he's got a bright future."