After their second winless six-game homestand of the second half and an off-day, the Mets now open a weekend series at red-hot Milwaukee. The Brewers were 12 games under .500, at 54-66, on Aug. 19. Since then, they are 18-5 and have moved to within 3½ games of St. Louis for the second wild-card berth.
Jon Niese (10-9, 3.47 ERA) opposes right-hander Mike Fiers (9-7, 3.05) in Friday's 8:10 p.m. ET opener. Jenrry Mejia starts Saturday, on the two-year anniversary of his last major league start.
Terry Collins pulled David Wright from the Mets-Brewers series finale at Citi Field after D.J. Carrasco hit Ryan Braun in May. Collins and Wright spoke with Braun at the All-Star Game and smoothed things over, but it is possible a prominent Met gets plunked this weekend.
Friday's news reports: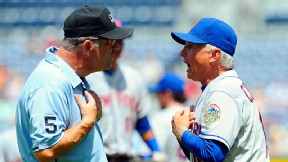 Dale Zanine/US Presswire
No dispute: Terry Collins will manage the Mets in 2013.
• The Post reported on Aug. 27 there was "no chance" Collins would be fired at season's end. That remains true, despite the team's freefall, according to Jon Heyman at CBSSports.com. Writes Heyman:
The only question appears to be whether Collins returns as a lame duck or is given an extension of a year or two. While Mets people indicate that isn't something currently on the frontburner, in most cases major-league managers aren't made to be brought back in lame-duck situations, so it's likely he receives a short extension. Collins is under contract to manage the Mets through next year. His option for 2013 on his original deal was picked up last winter. Collins' salary is not known but he is believed to be one of the lowest-paid managers in a major market.
Mets people especially like Collins' ability to work with their prospects, many of whom were in the minors while Collins was a minor-league executive with the team. He was originally hired by COO Jeff Wilpon and ex-GM Omar Minaya, but he is popular with the new regime as well.
• For years, the Mets have struggled to find a second lefty in the bullpen to pair with their workhorse -- first Pedro Feliciano, then Tim Byrdak. They once handed Scott Schoeneweis an ill-fated three-year, $10.8 million deal. (Schoeneweis was traded to the Diamondbacks along with $1.6 million after the second season, having compiled a 4.59 ERA as a Met.)
Now, the Mets look like they have a pair of capable southpaw relievers who came through the system: Josh Edgin and Robert Carson. So while the bullpen in general may need to be again reconstructed this offseason with Jon Rauch, Ramon Ramirez and the injured Byrdak all free agents, the Mets actually are in decent shape as far as lefty specialists. Frank Francisco is signed for next season at $6.5 million.
Writes Marc Carig in Newsday:
At the start of this season, Josh Edgin and Robert Carson had yet to make their major league debuts. But much can change during the course of a baseball season, as evidenced by the lockers that Edgin and Carson have been assigned along the same wall in the Mets' clubhouse. In their first taste of the big leagues, the left-handers have opened eyes with their performances down the stretch. Now they are battling to keep those lockers in their names when Opening Day rolls around in 2013. "Every time I take the mound, it's an audition for next year," Carson said. "I want to be here, I want to start here. I'm trying to finish strong this year, going into the offseason to work hard, and going into spring training to try to get that job."
Read more in the Star-Ledger.
• The fan from Massapequa, L.I., who jumped onto the field after Johan Santana tossed his June 1 no-hitter was sentenced Thursday to a $1,000 fine, $4,000 in penalties owed to the Mets, 100 hours of community service and a ban from Citi Field. Read more in Newsday and the Daily News.
Charles LeClaire/US Presswire
David Wright is nine hits shy of matching Ed Kranepool's career franchise record.
• Wright now has 1,409 career hits -- within nine of matching Ed Kranepool's Mets record. Wright already owns plenty of the franchise's records, including RBI, doubles and even strikeouts. He does rank third in games played with 1,244, trailing Kranepool (1,853) and Bud Harrelson (1,322). He also is No. 3 in homers at 200, trailing Darryl Strawberry (252) and Mike Piazza (220). Wright is fifth in steals at 165, and could threaten leader Jose Reyes (370) if the third baseman remains a career-long Met.
"I'm not going to lose any sleep over it," Kranepool told Ken Belson in the Times about the hits record. "It's not 3,000 hits. It's 1,418." Still, Kranepool added: "It's going to happen to a great guy. David's a class act. He's a Derek Jeter of the Mets. I hope he stays around."
• John Perrotto at Baseball Prospectus advocates Wright as Comeback Player of the Year. The piece includes writers making the case for 11 different MLB candidates, including Buster Posey and Adam Wainwright. Writes Perrotto:
There were whispers in baseball circles coming into this season that Mets third baseman David Wright was an "old" 29. Front-office types and scouts wondered if Wright's body was breaking down after playing so hard through the first eight years of his major league career. Wright had his worst season last year, appearing in just 102 games because of a stress fracture in his lower back that sidelined him for nine weeks. He posted a .254/.345/.427 slash line in 447 plate appearances and barely played above replacement level as he finished at 0.6 WARP. However, Wright has looked like a spry 29-year-old this season, as he is hitting .313/.401/.497 in 588 plate appearances. Most impressive is Wright's 5.4 WARP, which ranks him fourth in the major leagues behind Mike Trout (7.8), Buster Posey (6.0) and Andrew McCutchen (5.6). That shoots a pretty big hole in the idea that Wright might be on the downhill side of his career.
• The new collective bargaining agreement calls for the top 22 percent of players with two-plus years of major league service to be eligible for arbitration, up from 17 percent. Among the Mets' first-time arbitration-eligible players should be Bobby Parnell (3 years, 132 days at season's end), Daniel Murphy (3 years, 109 days), Ike Davis (2 years, 168 days) and likely Josh Thole (2 years, 142 days). Thole should sneak in because of the change in percentage of players with two-plus years of service time who are eligible. Lucas Duda's stint in the minors should ensure he does not meet the criteria to be eligible for arbitration.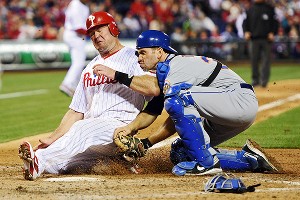 Drew Hallowell/Getty Images
Josh Thole should be eligible for arbitration for the first time this offseason.
Being a "Super Two" like Davis and probably Thole does not mean they are eligible for free agency a year earlier. Players need six years of major league service. It merely means they have four arbitration years instead of three, so their salaries start climbing earlier. The agency CAA believes the cutoff for arbitration eligibility this offseason will be two years, 139 days of service (Twitter link).
Thole's salary still should be relatively modest in 2013 -- no more than $800,000 or $900,000. The Mets would be unlikely to non-tender Thole at that cost, since they already need to fill the righty-hitting catcher slot (most likely Kelly Shoppach) while not blowing their budget on the position. The likely non-tenders are Mike Pelfrey (owed $5.6875 million this season) and Andres Torres ($2.7 million). Read more in the Star-Ledger.
• Shoppach told Mike Kerwick in the Record he's not re-signing imminently with the Mets. Writes Kerwick:
Shoppach said he will table any decisions until the first or second week of November. He said he wants to play and he wants to win. "Sometimes it's either-or," Shoppach said. "But you try to find a place that you can possibly do both."
• The Mets were in a comparable position to the Brewers and Phillies a few weeks back. Yet while those teams took off to get back into wild-card contention, the Mets unraveled. "We certainly were planning on ourselves being in position," Collins told Mike Puma in the Post. "It could have easily been us, so it just tells you that one of the things you're going to be able to talk about to your club is it doesn't matter where you are, there's always going to be that chance the last month could mean something and get you right back in that race."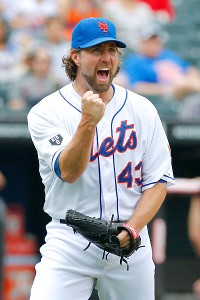 Paul J. Bereswill/Associated Press
R.A. Dickey is in a tight race for the Cy Young Award.
• R.A. Dickey was named winner of the Branch Rickey Award from the Rotary Club of Denver for co-founding a charity that provides baseball equipment and medical supplies in South America and Central America.
• Columnist John Harper in the Daily News polled Cy Young voters who say it's too soon to determine who is the favorite. Voters also told Harper pitching on a losing team is not an impediment to winning the award, unlike the MVP. Writes Harper:
A knuckleballer has never won a Cy Young Award, although the Braves' Phil Niekro finished second in 1969 to Tom Seaver, and the White Sox' Wilbur Wood also finished second to Gaylord Perry in 1972. But voters say it's not an issue now.
"It's an absolute non-issue," said Tim Brown of Yahoo.com. "For me, if he spit it out of his mouth and got big league hitters out, it wouldn't matter. It's all about performance."
"If anything, it might help him," said Jerry Crasnick of ESPN.com, "because he's doing something out of the ordinary. I admire what he's done with the knuckleball."
"It's about results, not velocity," said Derrick Goold of the St. Louis Post-Dispatch. "If the Cy Young Award were just about who has the best pitch, wouldn't Mariano Rivera have won it by now?"
TRIVIA: Who is the last Met to win the Cy Young?
Thursday's answer: Rick Peterson and Bob Apodaca both served as pitching coach for the Brewers after working in that capacity for the Mets.